Thursday Boots is a direct-to-consumer footwear brand that makes premium quality, stylish boots for men and women. They are designed to be timeless, fashionable, and durable enough to last you years of wear.
Thursday Boots offers an extensive selection, including leather dress boots, chukka boots, engineer boots, work boots, and hikers. Their boots are made from long-lasting, high-quality materials and feature classic styling for a timeless look. Their boots also have a Goodyear welt construction that ensures durability and long-term comfort.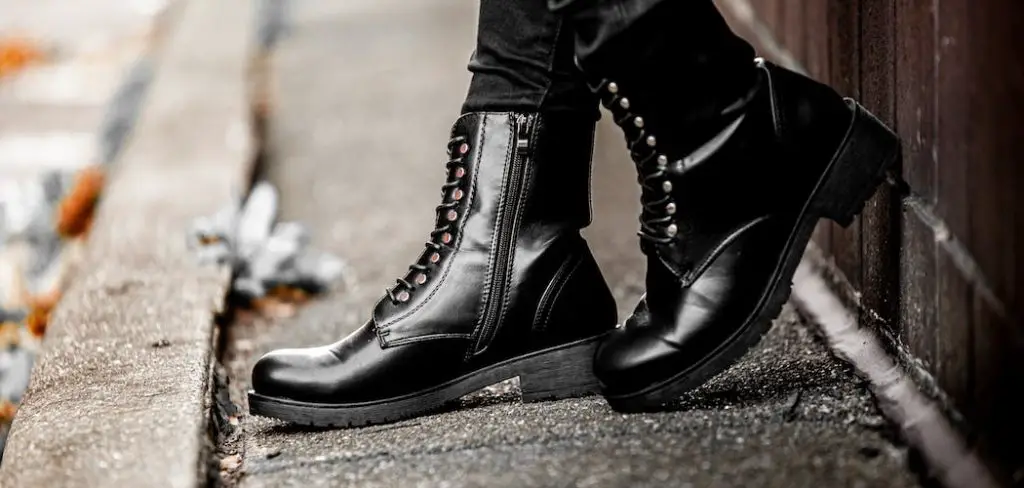 One of the biggest advantages of breaking in Thursday Boots is that they require minimal effort and time. This makes them ideal for those who are constantly on their feet and want comfortable shoes without spending a great deal of energy breaking them in. You can find step-by-step instructions on how to break in thursday boots in this blog article.
Summary: To break in Thursday Boots, start by wearing them for short periods of time around the house or office. Gradually increase the amount of time you wear them each day until they feel comfortable. You can also use a leather conditioner or boot oil to soften the leather and make it more pliable. Another option is using a shoe stretcher to stretch out tight areas.
Step-by-Step Instructions for How to Break in Thursday Boots 
Step 1: Inspect Your Boots
Before breaking into your boots, ensure they are in good condition and fit properly. Check that the leather is soft enough to conform to your feet, confirm that the laces are tight enough to keep them secure, and ensure that there are no signs of wear or tear. Put on a pair of thin socks before you get started. Wearing thinner socks will help the boots form more easily to your feet and shape faster.
Step 2: Soften the Leather
Once your boots are in good shape, they should start breaking them in. The first step is to soften the leather. Apply a leather conditioner or softening cream and work it into the leather with a cloth or brush. This will help make the leather more malleable and easier to work with.
Step 3: Wear Them Inside
Once you've softened the leather, it's time to put them on and start wearing them around the house. The goal here is to wear your boots for a few hours each day for a couple of weeks.
This will help the leather conform to the shape of your feet and form your movements. If you're having difficulty forming the leather, apply heat. Put on a pair of thicker socks and use either a hairdryer or a warm towel to heat up the boots for about 10 minutes each time. This will help the leather stretch faster.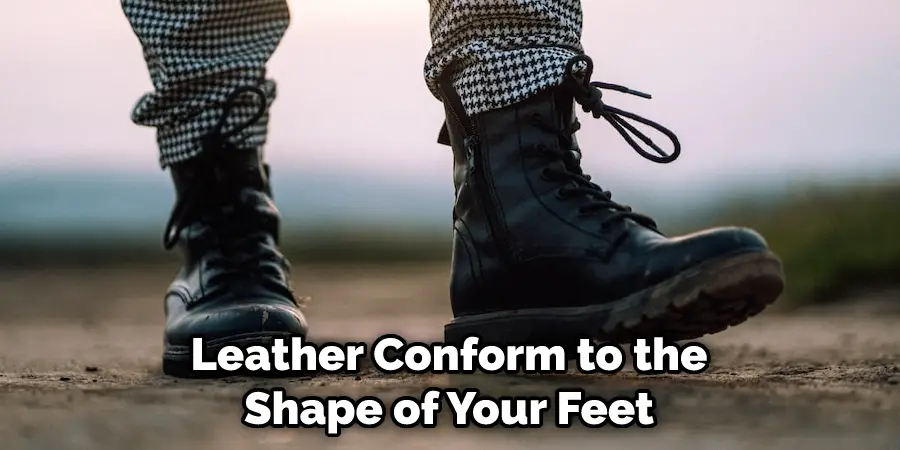 Step 4: Wear Them Outside
Once your boots can conform to your feet indoors, it's time to take them outdoors. Start by wearing the boots for short periods of time and gradually increase the amount of time you wear them each day.
This will help break in the sole and the rest of the shoe. After you've had your boots for a couple of weeks, apply more leather conditioner or softening cream to keep them pliable. This will help maintain the shape and condition of your boots as you wear them.
Step 5: Use a Shoe Tree
Put them on a shoe tree when you're done wearing your boots for the day. A shoe tree is an accessory that helps keep the shoes' shape and dry out any excess moisture from sweat.
This will help prolong your boots' life and ensure they are in good condition for years to come. If you're having trouble breaking in your toes, fill them out with newspaper or other materials. This will help form the leather to your feet and ensure they fit perfectly.
Step 6: Bend the Shoes
To help break in any stubborn areas, bend and flex the shoes. This will help stretch out any tough spots and make them more comfortable.
Tips for How to Break in Thursday Boots
Wear a thin pair of socks when breaking into your Thursday Boots. This will help reduce friction and prevent any potential blisters or rubbing.
Apply a leather conditioner before wearing the boots for the first time. This helps to make the leather more supple and easier to break in.
Wear your Thursday Boots for a few hours at a time. This will help to slowly form the boots to your feet and reduce discomfort as you break them in.
Take breaks while wearing the boots, and give your feet a rest. If your feet start to hurt, stop wearing the boots immediately and take the necessary rest.
If your boots are still uncomfortable, try adding a supportive insole or insert to provide additional support and cushioning for your feet.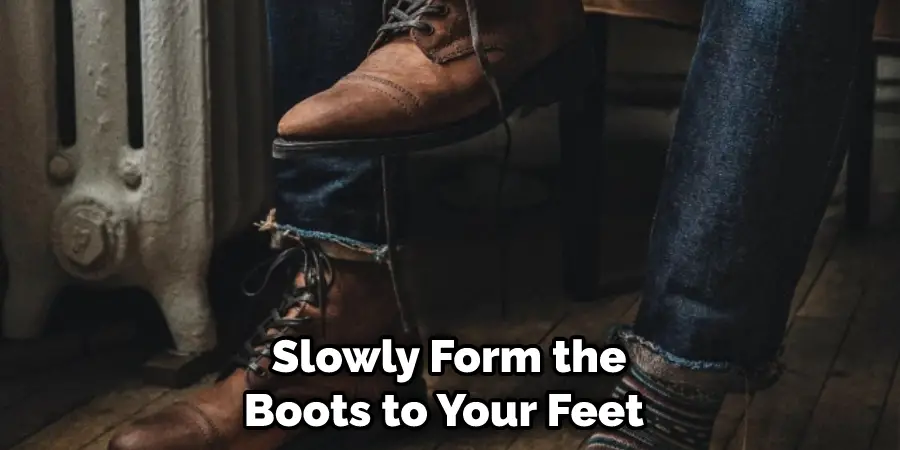 Following these tips will help you break in your Thursday Boots quickly and comfortably so that you can enjoy them for years to come.
How Long Does It Take to Break in Thursday Boots? 
When it comes to breaking in Thursday Boots, the process can take anywhere from a few days to a few weeks, depending on how often you wear them and how quickly they conform to your feet. The softer leathers of the boots are more likely to break in faster than the heavier leather. Additionally, wearing thick socks can help speed up the process.
Thursday Boots will begin to feel stiff and uncomfortable on your feet in the first few days of wear. This is expected and is a sign that they are beginning to break in. To minimize any discomfort, try wearing them for shorter periods of time during this period. After a couple of wears, the boots should start to mold to your feet, becoming more comfortable and flexible.
Some methods can be used to speed up the process for those who cannot wait a few weeks for their boots to break in. One such method is to use boot trees while they are not being worn. Boot trees help keep the leather stretched out, leading to a faster break-in time.
How Should You Use Laces to Help Break in Your Thursday Boots?
When breaking in your Thursday Boots, the laces can be one of the most important aspects. There are two main ways to use your laces when breaking in these boots:
Lace them loosely at first. This will allow you to wear them comfortably while they slowly break in around your feet and ankles. Once they feel comfortable and broken in, you can then lace them tighter if desired.
Use a slightly different lacing technique to create more room around the ankle area. An example of this is to use the criss-cross method (also known as the cross-over) when starting at the bottom of your boots. This allows for more room around the ankles and prevents discomfort.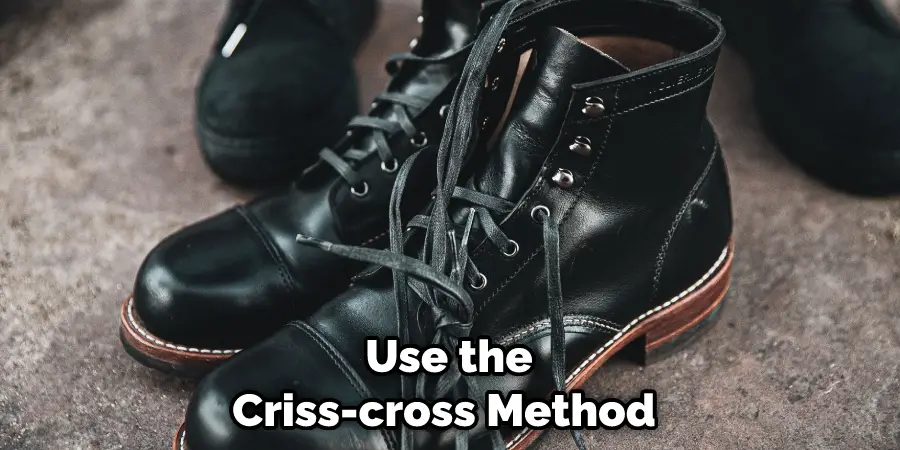 In general, using laces correctly is key when breaking in Thursday Boots. While you should always follow the instructions for lacing your boots, these tips may help create a more comfortable fit as you wear them.
Are There Special Techniques You Should Use to Break in Your Thursday Boots?
Breaking in your Thursday Boots may require patience, but it doesn't have to be difficult. There are several tried-and-true methods you can use to make the break-in process easier and help ensure that your boots fit comfortably.
One of the most effective ways to break in Thursday Boots is by taking advantage of the natural flexibility of the leather. Apply a leather conditioner to soften the material and make it more pliable, then use a shoehorn or your hand to stretch out any tight spots gently. If you're having trouble flexing certain areas, try putting on thicker socks to help create more space between your foot and the boot.
If you find the leather is still too stiff to flex, try using a blow dryer or warm towel. Apply heat for no more than 10 seconds at a time and then use your hand or shoehorn to stretch out any tight spots. Ensure not to apply too much heat, as this could permanently damage the leather.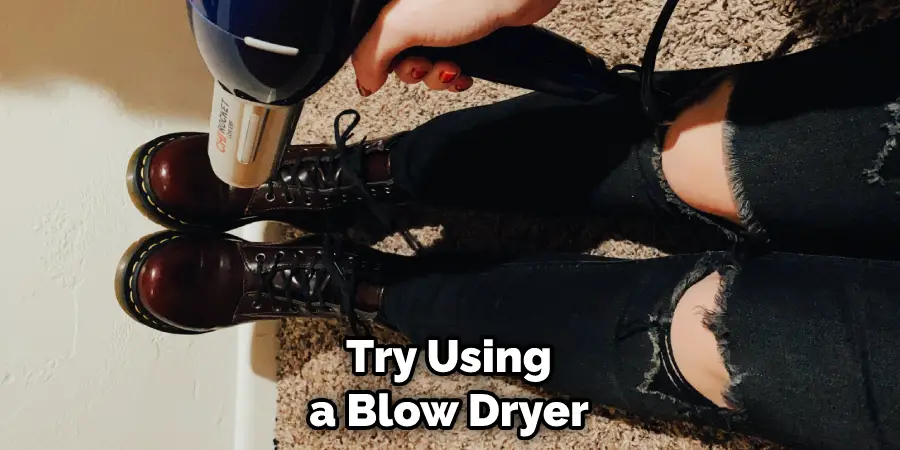 Conclusion
One of the main disadvantages to breaking in Thursday Boots is that it can be time-consuming. Depending on how thick and stiff the leather is, it may take several days or weeks to break them in fully.
Additionally, if you are not careful and use aggressive techniques, you could potentially damage your boots, rendering them unusable. Lastly, using the wrong type of lubricant could cause discoloration or other damage to your boots. 
Breaking in Thursday Boots is important in getting the most out of your footwear. The right combination of preparation, care, and patience can help you break into your boots quickly and properly so that they'll last you many seasons to come.
Start by preparing your boots before wearing them, considering whether they are leather or shearling. I hope reading this post has helped you learn how to break in thursday boots. Make sure the safety precautions are carried out in the order listed.