There's nothing like a good pair of socks to keep your feet warm on a chilly day. But what do you do when you want to wear your Vans sneakers? Wearing socks with Vans can be tricky, but it's not impossible. Just follow these tips, and you'll be able to pull off this look in no time.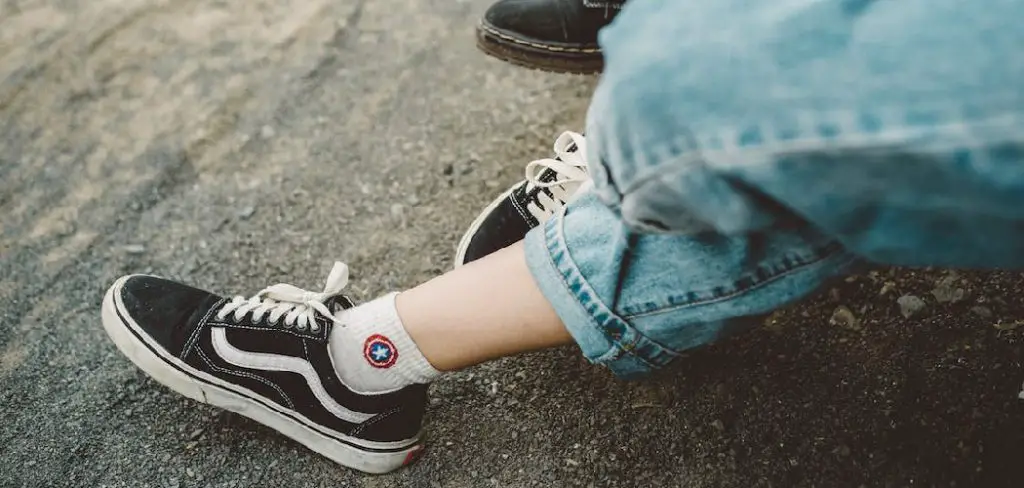 There are many ways to wear sneakers and even more ways to wear Vans. But one of the most popular and trendy ways to wear them right now is with socks. Here are a few tips on how to wear vans with socks.
There's a reason why Vans have been around for as long as they have – they're versatile and can be worn with pretty much anything. But some people still aren't sure how to wear them with socks, so in this blog post, we'll show you different ways to do just that!
Summary: In order to achieve a stylish look when wearing Vans, it's important to wear socks that are the correct length and style. When picking out a pair of socks, make sure they come up over your ankle and cover part of your calf for a comfortable fit. Avoid white socks, as these may not be suitable for certain shoe designs.
Are You Supposed to Wear Socks With Vans?
First of all, let's address the age-old question – are you supposed to wear socks with Vans? The simple answer is yes! Wearing socks with your Vans not only adds a layer of warmth but can also prevent blisters and keep your feet feeling fresh all day.
But what kind of socks should you wear with Vans? The best choice is to go for a low cut, a no-show sock that won't be visible above the top of your shoe. These types of socks can easily be found at any department or sporting goods store.
Overall, it's totally up to personal preference whether or not you choose to wear socks with your Vans. But if you do decide to go for it, just make sure that the socks complement your overall outfit and don't stick out like a sore thumb.
10 Smart Ways How to Wear Vans With Socks
1. Monochromatic Look:
Match your socks to the color of your Vans for a sleek and polished look. Another bonus of this style is that it can also make your legs appear longer if the socks and shoes are the same color. It will also make it harder for anyone to notice your socks peeking out above the shoes.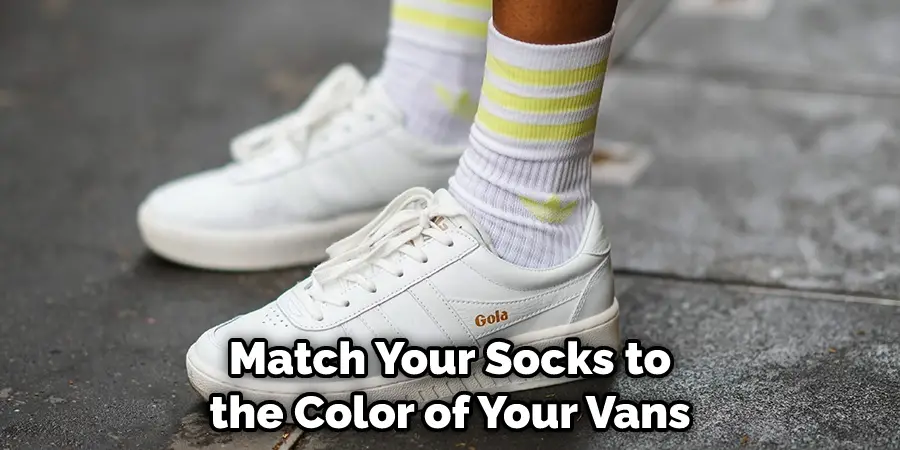 2. Go Bold:
Want to add some edge to an outfit? Add a pop of color or pattern with your socks and Vans combo. Whether it's a bold stripe or an eye-catching print, this can be a fun way to show off your personality and add some interest to a simple outfit.
3. Mix Patterns:
Feeling adventurous? Mix different patterns with your Vans and socks for a bold statement look. Just make sure the patterns complement each other and don't go overboard with too many clashing patterns or colors.
4. Layer Socks:
How about trying out layering socks? This can be a fun way to add texture to an outfit, especially when paired with Vans with design elements like checkered or striped patterns. Make sure the top sock peeks above the shoe for maximum effect. Don't be afraid to mix and match different colors or patterns for added interest.
5. Add Some Texture:
Step up your sock game by adding in some texture, such as fishnet or lace socks. This can add a touch of edginess and can be a fun way to mix up your sock and Vans look. You can add some more edge by pairing these socks with ripped jeans or a leather jacket.
6. High Socks:
Add some height to your outfit by wearing higher socks with your Vans, such as crew or above-the-knee socks. This style is also great for keeping your legs warm on chilly days. Just make sure the socks aren't too visible above the shoe and complement the rest of your outfit in terms of color and pattern.
7. Sock Boots:
Another trendy way to wear Vans with socks is to pair them with socks, ankle boots made out of stretchy material that hug your foot like a sock. This style can add a touch of sophistication to any outfit and can also keep your feet warm in colder weather. You can get even more creative by pairing sock boots with Vans that have fun patterns or designs.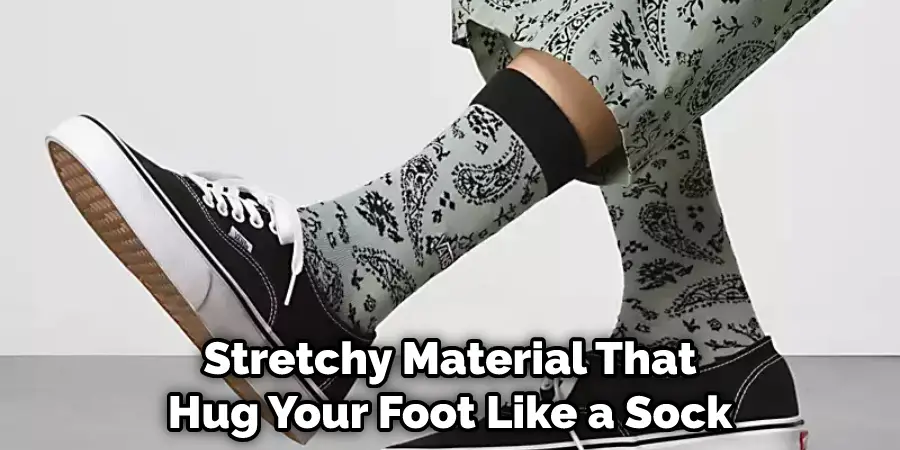 8. Mix Materials:
Mixing materials, such as pairing Vans with wool or cashmere socks, can add some interest to your look and keep you warm during winter. Just make sure the materials complement each other, and the colors go well together. Try to avoid any clashing patterns or designs.
9. Color Block:
Create a fun color blocking look by wearing socks with multiple colors or a mix of solid and patterned socks. Just make sure the colors coordinate well with each other and your shoes for a put-together ensemble. Be careful not to go overboard with too many clashing colors or patterns.
10. Ankle Socks:
Another classic way to wear socks with Vans is to go for ankle socks, which can add a touch of girly flair and keep your feet comfortable all day. Choose socks in colors or patterns that complement the rest of your outfit for a cool, coordinated look. Have fun with it by mixing and matching different patterns or textures for added interest.
Following these tips, you'll be able to rock the socks and Vans combo in any way you want. So go ahead and experiment with different styles.
5 Additional Tips and Tricks
Roll up the cuff:  To add a little bit of individuality to your outfit, try rolling up the cuff of your socks. This also helps show off your Vans and adds visual interest to your look.
Matching colors: Consider matching the color of your socks to either your Vans or your outfit for a cohesive and put-together look.
Traditional patterns: Opt for traditional patterns like stripes or argyle for a classic, preppy style.
Fun patterns: On the other hand, have some fun with your sock choice by wearing a bold pattern or graphic design.
Be confident: Above all, wear your socks with Vans confidently and rock your unique personal style!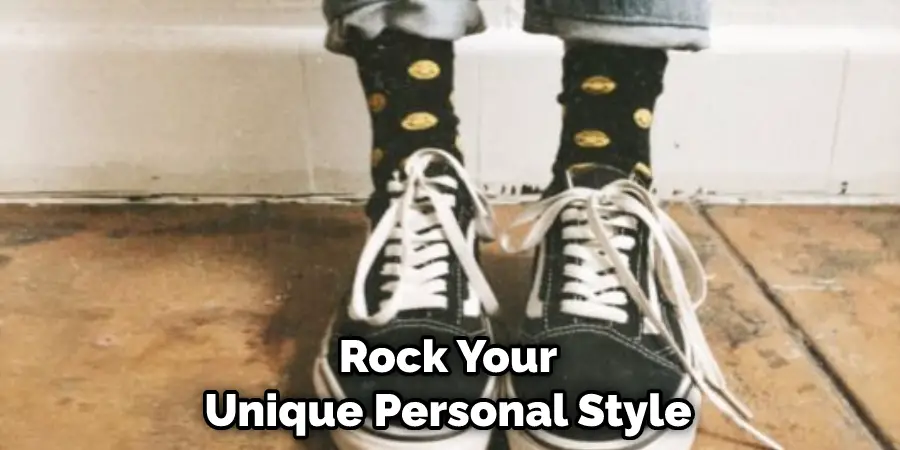 Always make sure to choose a sock that fits comfortably and securely within your Vans to avoid any bunching or slipping. Happy styling!
5 Things You Should Avoid
Avoid wearing socks that are too short and expose your ankles. Not only does this look sloppy, but it can also lead to blisters.
Avoid wearing socks with holes or thinning fabric. Not only will this make your feet uncomfortable, but it can also ruin the look of your outfit.
Avoid wearing socks with loud, bold designs or patterns. These can take away from the simplicity and style of your Vans.
Avoid wearing white socks unless you want a specific, intentional look. White socks can easily appear too casual and boring when paired with Vans.
Avoid wearing athletic socks, such as those made for running or sports. These are often thicker and can make your shoes feel tight and uncomfortable. Instead, opt for thinner, more stylish socks that complement the look of your Vans.
Remember to have fun with your sock choices and experiment with different styles and colors to find what works best for you! Happy shoe-socking!
Are Vans Good Shoes for Being on Your Feet All Day?
It depends. Vans are known for their comfort and durability, but they may not provide as much support as other shoes designed specifically for being on your feet all day. It's important to consider your individual needs and preferences when selecting a shoe for prolonged standing or walking. If you find that Vans work well for you in this regard, then go for it!
Otherwise, there are plenty of other options out there that may better suit your needs. As always, listen to your body and make sure to take care of your feet with proper stretching and breaks throughout the day.
Should Vans Be Tight or Loose?
It's a matter of personal preference. Some people prefer their Vans to fit snugly, while others prefer a looser fit for added comfort. As long as your shoes don't feel too tight or cause any discomfort, there's no right or wrong answer here. Experiment with different fits to find what works best for you. Ultimately, it's all about feeling and looking good in your shoes!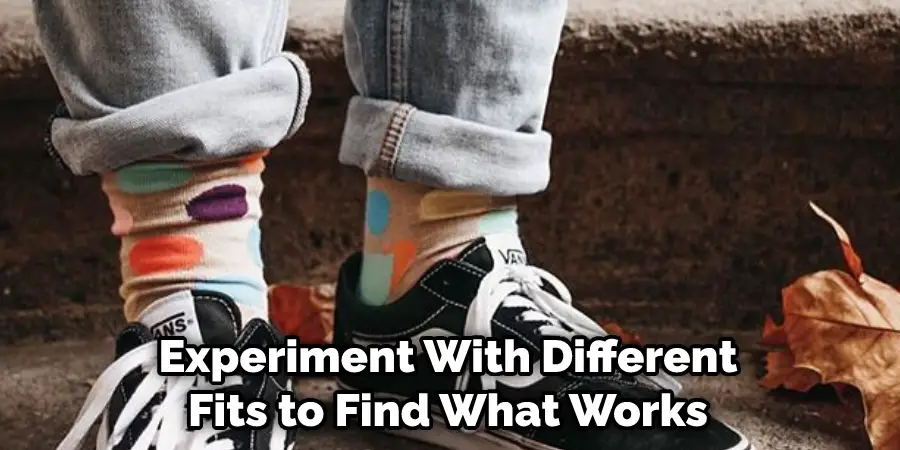 When trying on new Vans (or any type of shoe), make sure to wear the same type and thickness socks you plan to wear with them regularly. This will give you a more accurate sense of how they will fit in real life situations. Happy shoe shopping!
You Can Check It Out Prevent Ankle Socks From Slipping
Conclusion
No matter what the season, Vans are a great choice of sneakers. They go with everything, and they're comfortable too. If you want to step up your style game, try wearing them with socks. It's a simple way to add some personality to your outfit. Have fun experimenting with different socks until you find a look that works for you!
Though it may seem like a small detail, how you choose to wear your socks with Vans can make or break your look. Luckily, we've put together a few tips on how to wear vans with socks.
With these guidelines in mind, go out and experiment with different styles until you find what works best for you. And don't be afraid to have some fun with it – after all, fashion is supposed to be enjoyable!