Are you wondering how to rock the clog and sock combo? Good news – it's easier than you think!
Clogs are a popular type of footwear that can be worn in various ways. While some people prefer to wear them without socks, others find that wearing clogs with socks offers more comfort and support. If you're interested in trying out this style, here are a few tips on how to do it right.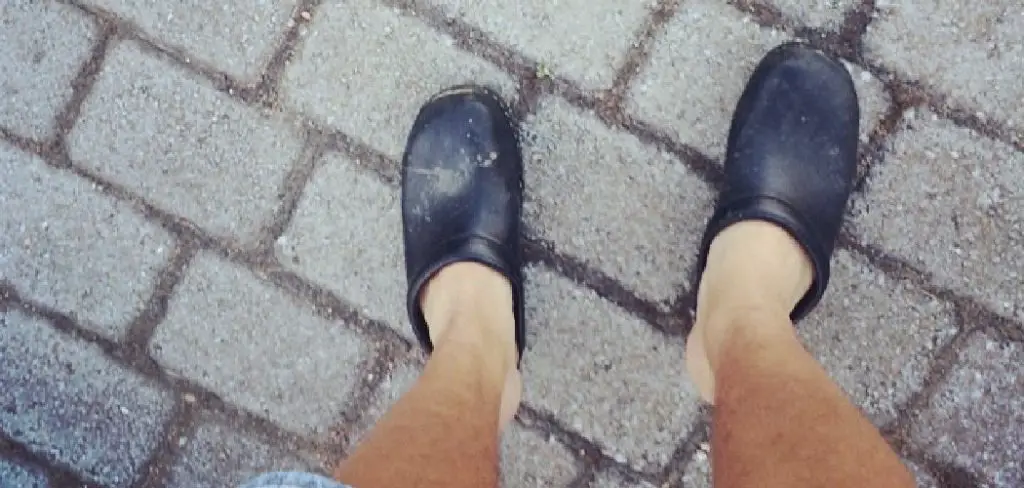 Clogs are a type of shoe that is perfect for the summertime because they are made to let your feet breathe. However, some people may wonder how to wear clogs with socks in the cooler months. There are a few different ways you can do this, and each has its own benefits. Read on to learn more and find the best method for you!
Summary: Clogs can be worn with or without socks, and depending on the style of clogs you choose, your look can range from sleek to stylish. To pull off clogs comfortably with socks, opt for a thicker material like wool or synthetic blends that won't bunch up in your shoes. Pair your legwear with ankle-length trousers or cropped jeans to make a statement.
Are You Supposed to Wear Socks With Clogs?
Some people prefer to wear clogs without socks, while others find that wearing socks with clogs offers more support and comfort. Ultimately, it is a personal preference, and there is no right or wrong way to wear them.
If you choose to wear socks with your clogs, ensure they are thin enough to fit comfortably inside the shoe without bunching up. Thicker socks may not fit properly and can cause discomfort while walking.
Overall, how you wear your clogs with socks is completely up to you. Experiment and see what works best for you!
10 Stylish Ways How to Wear Clogs With Socks
1. Traditional Method:
The traditional way to wear clogs with socks is to simply slip on a pair of socks before putting on your clogs. This method is easy and convenient and offers added warmth in the colder months. Be careful not to choose too bulky or thick socks, as they may make the clogs feel tight and uncomfortable.
2. Fold Over Socks:
For a more fashionable look, try folding over a pair of socks and wearing them with your clogs. This creates a trendy layered effect and adds a pop of color to your outfit. You can add even more interest by pairing patterned or textured socks with your clogs. It will give you a unique and stylish twist on the traditional way.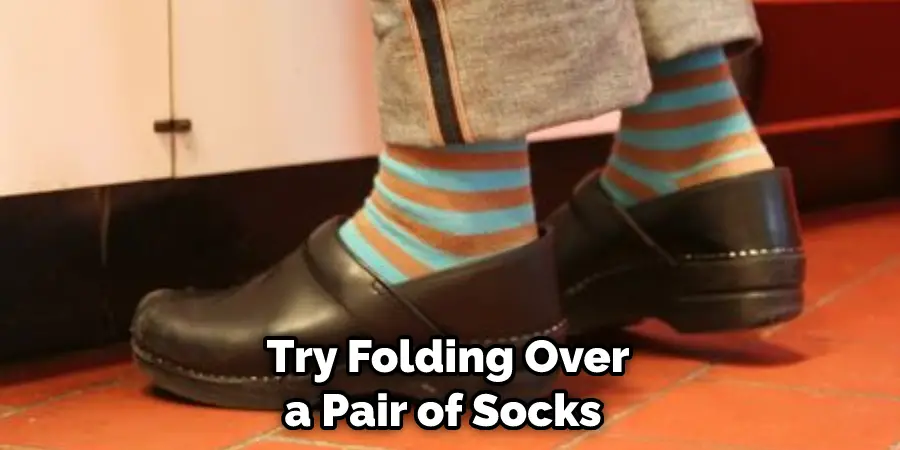 3. Ankle Socks:
If you want to wear socks with your clogs but don't want them to be visible, try wearing ankle socks. These will provide added comfort without compromising the aesthetic of your outfit. But be sure to choose a thin and snug fitting sock, as thicker socks may cause discomfort while walking.
4. Patterned or Colorful Socks:
Add some fun to your outfit by incorporating patterned or colorful socks into the mix. Alternatively, opt for classic white or black socks for a more subdued look. There are endless options for how you can wear clogs with socks and show off your personal style.
5. Sock Liners:
Wear sock liners under your clogs if you want to add an extra comfort layer. These thin socks offer added cushioning without taking away from the style of the shoe. You can get them in various colors to match your outfit or stick with classic neutral tones.
6. Wool Socks:
Wear wool socks with your clogs for added warmth in the colder months. This cozy combination is perfect for chilly weather and will keep your feet warm and comfortable all day long. So, don't be afraid to try it in the wintertime.
7. Knit Socks:
Knit socks are another great option for colder temperatures, as they offer added warmth and comfort while still allowing your feet to breathe. Pair them with your clogs for a cozy winter look. Another bonus is that they come in a variety of colors and patterns so that you can add some visual interest to your outfit.
8. Tights or Leggings:
Try wearing tights or leggings under your clogs for an edgy and unique look. This style adds warmth while also creating a visually interesting outfit. Don't be afraid to experiment in unexpected ways.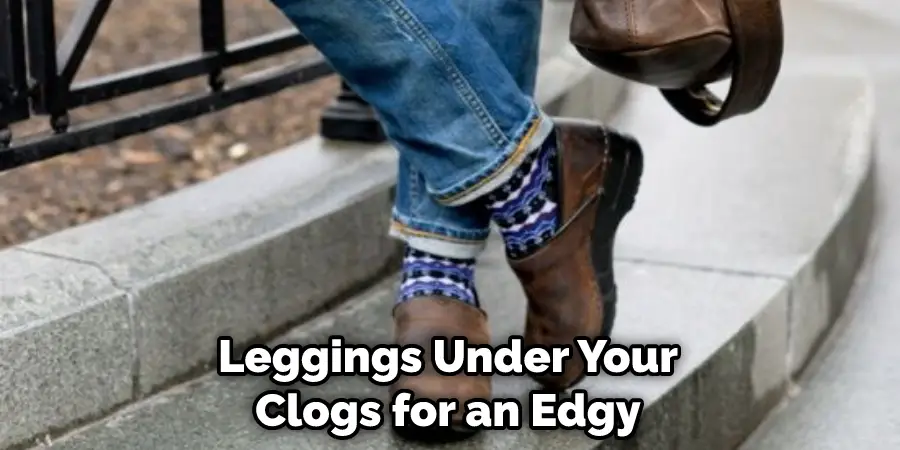 9. Trouser Socks:
Trouser socks are thicker than traditional socks and offer added support for those who may have trouble with the stability of clogs. Try wearing them with your clogs for added comfort and stability. The best part is that they come in various colors and patterns, so you can still show off your personal style.
10. Mix and Match:
Have fun with your sock and clog combinations by mixing and matching different styles, patterns, and colors for a truly one-of-a-kind look. The options are endless! 
Ultimately, how you choose to wear your clogs with socks is entirely up to personal preference and comfort. Experiment with different styles and find what works best for you! Happy styling!
5 Additional Tips and Tricks
Roll up your pants or cropped pants: Rolling up your pants or opting for cropped pants helps to show off the socks and gives a chic, stylish look.
Choose a thicker sock: Thicker socks add more warmth and can also provide cushioning for added comfort.
Choose a sock with a fun pattern or pop of color: Adding a fun pattern or pop of color to your sock choice can add an extra style element to your outfit.
Experiment with different styles of socks: Try out wearing crew socks, ankle socks, or even knee high socks with your clogs for different looks.
Keep the rest of your outfit simple: Letting the socks and clogs be statement pieces will help them stand out and complete your outfit in a polished way.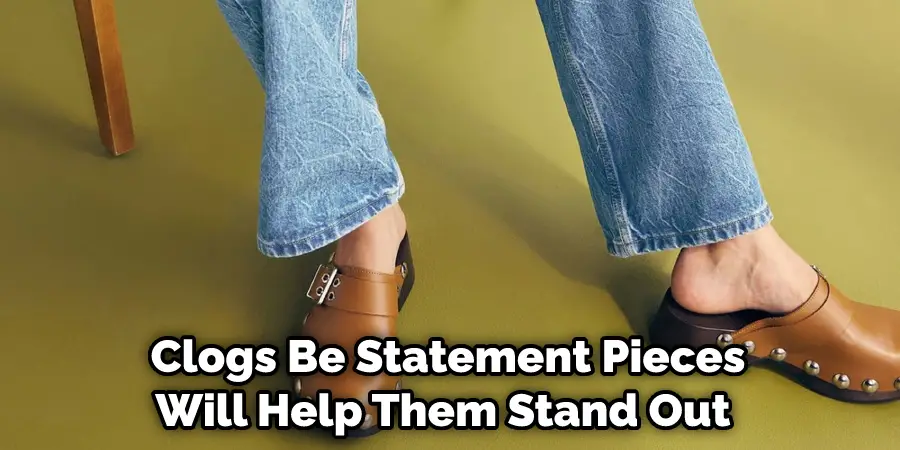 These tips and tricks can help you rock the clogs with socks, look and stand out stylishly. Happy styling!
5 Things You Should Avoid
Wear cropped socks that won't provide enough coverage and will make your clogs look awkward.
Wear sheer socks that don't provide enough cushioning for your foot.
Match the color of your socks to your clogs, as this can create a monotone look. Instead, opt for contrasting colors to add visual interest to your outfit.
Wear socks with graphics that compete with the design of the clog itself. Keep it simple and let the shoes take center stage.
Wear ankle socks with clogs unless they have an open back or strap design – they may slip off easily while walking and cause you to trip. Opt for crew or knee-high socks for added security.
Overall, remember to keep your sock choice comfortable and complementary to your clog choice. Have fun experimenting with different color and pattern combinations to add effortless style to your outfit. Happy sock-clad clogging!
Why Are Clogs Good for Your Feet?
Clogs provide arch support and cushioning for your feet, making them a comfortable shoe option.
The closed-toe design protects your feet from any potential hazards.
The elevated heel allows for a more natural walking posture, reducing strain on the ankles, knees, and hips.
The sturdy sole helps to absorb shock when walking on hard surfaces.
Clogs are easy to slip on and off, making them a convenient shoe choice for busy days.
Clogs offer style and practicality – a winning combination for your feet!
What Season Are Clogs for?
Clogs can be worn year-round and easily transition from season to season.  In the warmer months, try pairing them with flowy dresses and shorts. It will add a playful touch to your summer outfits.
In the cooler months, wear them with jeans and a cozy sweater for a trendy and comfortable look.  The versatility of clogs makes them a go-to shoe option for any season.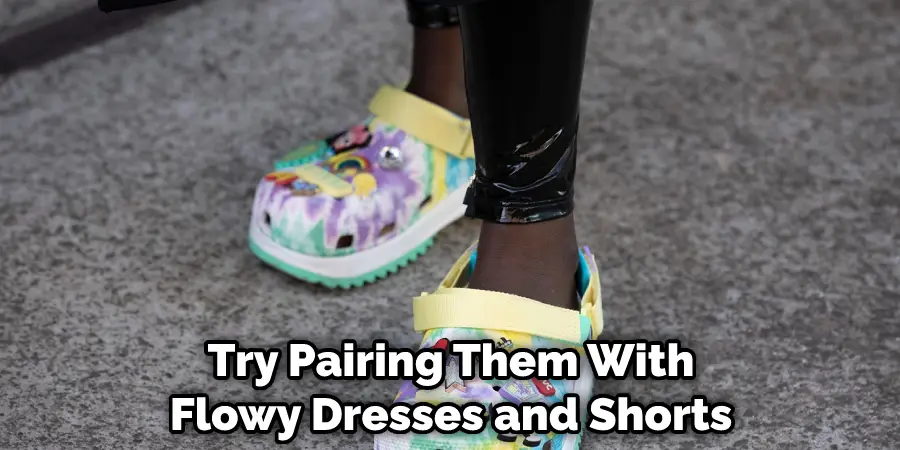 Don't be afraid to experiment and have fun styling clogs in your wardrobe!
Are Clogs Good for Standing All Day?
Yes, clogs can definitely be a good choice for standing all day. As mentioned above, they provide arch support and cushioning for your feet, which can alleviate discomfort while standing for long periods of time.
Additionally, the closed-toe design protects your toes from any potential hazards in a work environment. The sturdy sole also helps to absorb shock and reduce strain on your legs and back.
Overall, clogs can be a comfortable and practical shoe option for those who have to stand for extended periods of time at work. Give them a try the next time you need a reliable shoe for standing all day!
Conclusion
Fall and winter are the perfect time to break in a new pair of clogs. With a little bit of styling, you can make them work with any outfit – even if it's just a pair of socks! Who knew? Now that you know how easy it is to incorporate clogs into your wardrobe go out and get yourself a pair. You won't regret it.
Well, there you have how to wear clogs with socks! Wearing clogs with socks is definitely possible and can actually look pretty good. Whether you're going for a more casual or formal look, make sure to choose the right colors and patterns to match your outfit. With a little bit of effort, you can rock this unique style. So go out there and give it a try!
Hopefully, this article has shown how comfortable and versatile clogs can be, making them a great shoe option for standing all day. So what are you waiting for? Get a pair of clogs and enjoy the comfort and practicality they offer. Happy clogging!