Joggers and boots: two staples of today's fashion world, but this seems odd combination has been surprisingly gaining attention recently. If you're looking to upgrade your streetwear wardrobe and inject some cool vibes into your everyday style, look no further!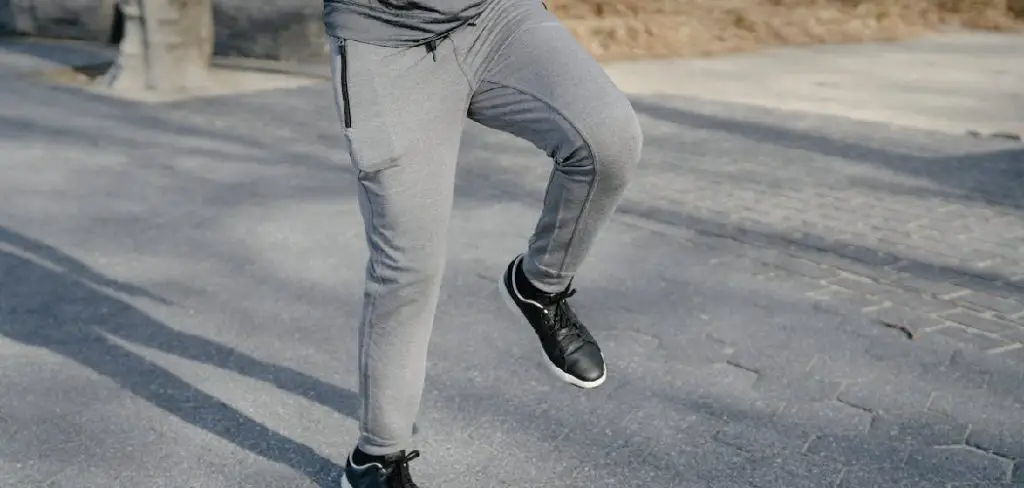 In this blog post, we'll give you the lowdown on how to wear joggers with boots – from choosing the perfect fit to completing the look with accessories. So read up and find out how simple it is to step out in unbeatable urban chic.
Summary: To wear joggers with boots, choose a boot with a slim or tapered ankle opening to avoid a bulky look. Fold the joggers' cuffs up to sit just above the boots to show off the shoes. If you're wearing high-top boots, tuck the joggers' cuffs into them for a sleeker look. Pair with a simple t-shirt or sweater, and consider layering with a denim jacket or coat. Mix and match materials, such as leather boots with cotton joggers, for a balanced outfit.
Can Both Men and Women Wear Joggers With Boots?
Absolutely! This look is one that transcends gender and can be worn by anyone. Whether you are a man, woman, or non-binary – joggers with boots are an outfit that looks stylish on everyone. You just have to make sure you choose the right fit and style of joggers and boots that best suit your body type.
What Style of Joggers Should You Choose?
When choosing joggers to wear with boots, look for a slim-fitting tapered design. Baggy joggers will give off more of a casual silhouette, while slim-fitting joggers will offer a more polished and sophisticated look. Make sure the fit isn't too tight but also not so baggy that it looks sloppy. Choosing a pair that has a drawstring waistband and cuffed ankles will help to ensure a clean, modern look.
Things to Consider Before Pairing Joggers With Boots
When it comes to pairing joggers with boots, there are a few things to keep in mind. First of all, you'll want to consider the color and material of both the joggers and the boots. Choose similar tones or textures for a sleek and cohesive look. For example, black leather boots will pair nicely with black faux leather or velvet joggers. You can also opt for a bolder combo, like a colorful pair of suede joggers with animal print boots.
Secondly, the height of your boots is important – make sure your trousers are slightly longer than your boots, so they don't bunch up when you walk or sit down. Finally, keep in mind that joggers and boots can be dressed up or down depending on the occasion. For a more casual look, opt for sneakers instead of boots.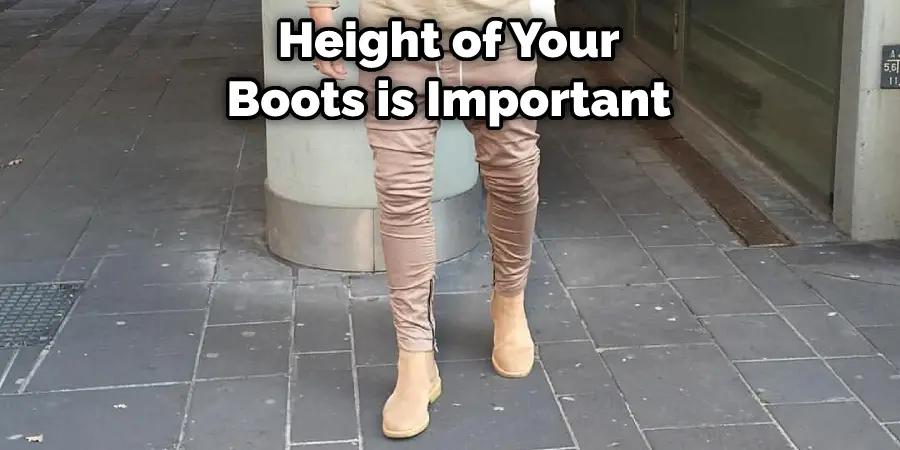 10 Instructions on How to Wear Joggers With Boots
1. Choose the Right Pair of Joggers
Pick out a slim-fit tapered pair of joggers. Choosing the right fit is essential to achieving a stylish look. Keep in mind the color, material, and style of joggers you choose. It will help to ensure your look is cohesive.
2. Pair With the Right Boots
Opt for a pair of boots that complement the style and color of your joggers. Make sure they are not too high or too low but just the right height.
3. Add Accessories
Accessorize with a belt, scarf, hat, or jewelry. This will help to elevate the look of your outfit. The accessories you choose should be in the same color palette as your joggers and boots.
4. Choose a Top Layer
Choose a top layer to complete your look. Whether you opt for an oversized shirt, a crop top, or even a leather jacket – make sure the style of your top layer matches the look you are trying to achieve.
5. Wear It With Confidence
Once you have your outfit all put together, it's time to wear it with confidence! Keep in mind that joggers and boots can be dressed up or down depending on the occasion. This combination is an unbeatable way to look stylish and modern at any time of year.
6. Mix and Match
Don't be afraid to mix and match your joggers with different boots or accessories. You can create new looks by pairing classic joggers with modern ankle boots or bright-colored trainers with a muted-toned pair of joggers.
7. Create Your Own Style
Whether you are going for a casual look or a more polished look – make sure the style is unique to you. Don't be afraid to experiment and create something that's totally your own.
8. Invest in Quality Pieces
When investing in joggers and boots, always make sure they are of high-quality materials. The better the quality, the longer it will last, and the better it will look.
9. Utilize Social Media
Get inspiration from your favorite style icons and take advantage of the amazing fashion tips you find on social media platforms such as Instagram, Pinterest, and YouTube. These platforms are great resources to help you create new looks and up your style game.
10. Don't Be Afraid to Experiment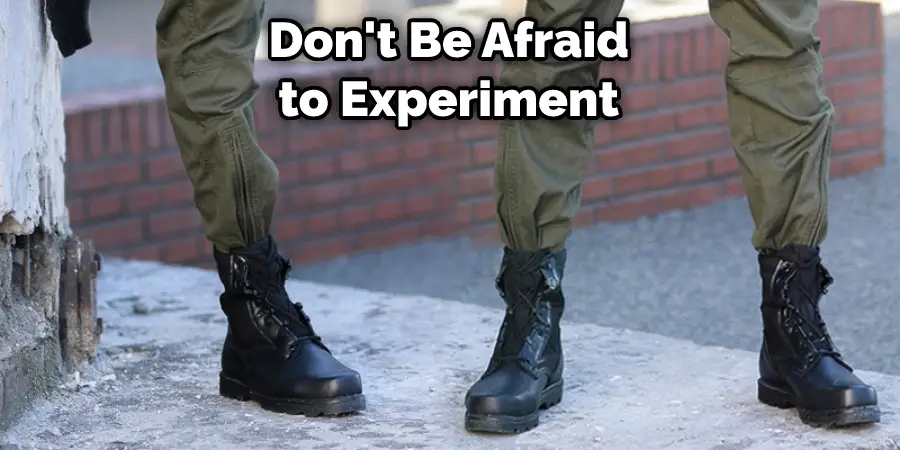 Above all, don't be afraid to experiment and have fun with fashion! Try different combinations of joggers and boots until you find the perfect match for your unique style. This is a great way to stay on trend and look your best.
By following these tips, you'll be able to find the perfect combination of joggers and boots to express your individual style. With a little bit of creativity and confidence, you can create stylish looks that will turn heads everywhere you go!
 8 Tips on Styling Joggers With Boots
1. Choose the right fit. Make sure your joggers are slim-fit or skinny to get a sleek, streamlined look when pairing them with boots. It is most flattering to choose joggers that hit just above the ankle.
2. Balance out the look with a longline top. A long sleeve T-shirt or sweater works perfectly to create an effortless, casual look. It will also help balance out the bulkiness of your boots.
3. Choose casual boots with a low heel (or no heel). A chunky lace-up boot, like combat or Doc Martens style, will achieve the best look with joggers. Avoid high heels as they can make the outfit look too dressy.
4. Wear ankle-length socks for an extra layer of warmth and comfort. The combination of joggers and boots can sometimes leave the ankles exposed. Ankle-length socks are a great way to fill this gap and keep you warm in the winter months.
5. Roll up the cuffs of your joggers for a more relaxed look. This can be done with any type of jogger, slim or baggy, and it will help draw attention away from the boots.
6. Accessorize with a belt or scarf. This can help pull together the look and also add some personality to your outfit. A printed scarf or chunky belt will do the trick.
7. Choose neutral colors for a timeless look. Opt for dark tones like black, brown, grey, or navy blue when styling joggers with boots. This will ensure that your look is timeless and classic.
8. Layer on the jewelry for an extra touch of style. Opt for simple, minimal pieces such as a necklace or bracelet to add some sparkle to your outfit.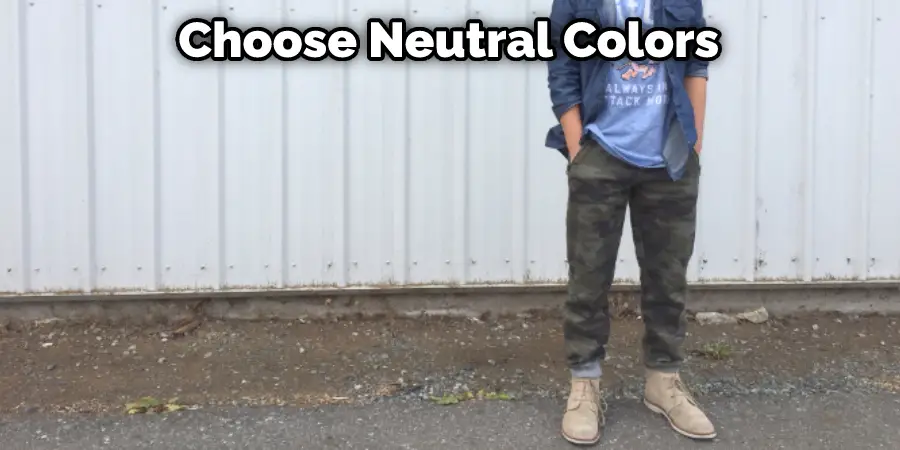 Following these tips, you'll be sure to get it right when it comes to styling joggers with boots. Don't be afraid to experiment and have fun with it! With the right pieces, you'll be sure to create some stylish and comfortable outfits that are perfect for any season.
Frequently Asked Questions
What Style of Boots Should You Choose?
Boots are the perfect footwear for this trend, so you can choose from a wide variety of styles. Ankle boots or Chelsea boots with a chunky sole are best for a casual look, while dressier styles like heeled ankle boots give the outfit an extra edge.
How Can I Make It Look Less Casual?
If you're looking to take your jogger and boot combo to the next level, opt for sleek black or navy blue joggers with a pair of patent leather ankle boots. Finish off the look with a structured coat, and you'll be sure to create an outfit that is both stylish and polished.
What Types of Boots Work Best?
Choose a pair of boots with thicker soles to balance out the slimness of your joggers. Chelsea boots are great for this outfit as they create a streamlined look that is easy to style. Avoid high heels or thin soles, as this can make the outfit look too dressy. Remember, the key is to create an effortless and casual look.
Conclusion
This fashion trend can be easily achieved with some experimentation and creativity. Go beyond the basics of jeans and a t-shirt to elevate your look! For a smarter spring wardrobe, pair men's joggers with some boots.
The jogger pant is comfortable yet sophisticated and can be just as versatile as jeans when styled right. Make sure you find a slim-fit style to avoid having baggy pants that you'll find yourself having to constantly pull up.If you want to dress it down, keep the other pieces minimal for an effortless look think hoodies or logo tees rather than shirts or blazers. 
Or, if you're going for something more adventurous, switch out traditional boots for Chelsea boots or chunky hiking boots. Joggers are always in style, so don't be afraid to own them!
They come in an endless range of colors, from classic black and gray to navy blue and even soft pastel shades – perfect for transitioning into warmer seasons. Be bold, have fun, and make sure your shoes always shine bright. Keep this guideline on how to wear joggers with boots in mind.