Engineer's boots are a classic style of boot that can be worn in various ways. In this article, we will show you how to wear engineer boots in four different ways. We will also provide tips on choosing the proper engineer boots for your style. So, read on whether you are looking to buy your first pair of engineer boots or want some new ideas on how to wear them!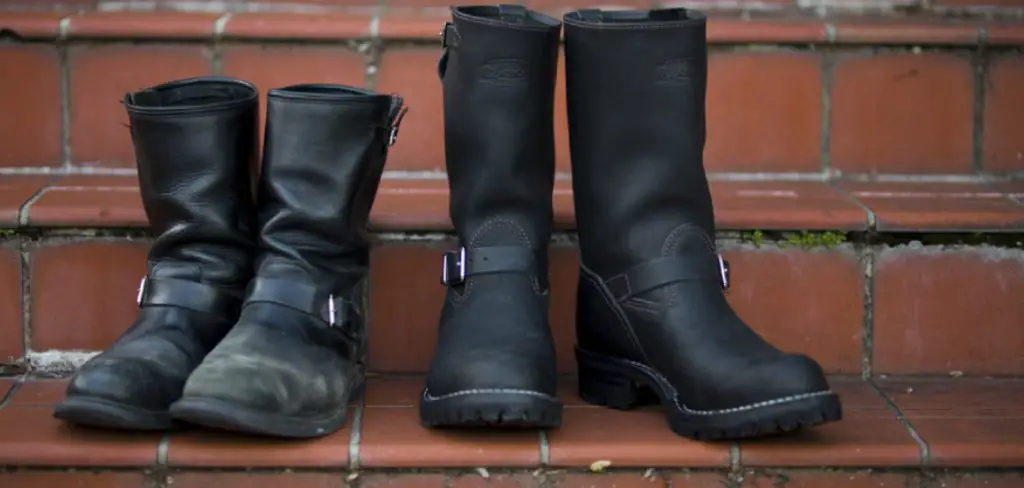 It is important to note that engineer boots are not just for engineers. These boots have been worn by everyone, from construction workers to celebrities. The key to pulling off this look is to choose the right pair of engineer boots for your style. However, some more fashionable engineer boots are on the market, perfect for a night out or even a day at the office.
Summary: Engineer boots are classic rugged leather boots originally designed for motorcycle enthusiasts. Wearing engineer boots can add a cool and edgy vibe to any outfit, but it's important to wear them correctly. First, choose the right fit; engineer boots should fit snugly without causing discomfort. Next, pair them with the right clothing, such as skinny jeans or tapered pants. When lacing up your boots, make sure to leave the top hooks undone to achieve the traditional engineer boot look.
What Are Engineer Boots?
Engineer boots are a type of footwear typically made from leather and have a higher leg shaft. The boots are often lace-up style and include several buckle straps. Engineer boots were originally designed for people who worked on railways. The boots needed to be durable to protect the feet from debris while also slipping-resistant to prevent accidents.
Today, engineer boots are still worn by railway workers and people in other occupations that require safety footwear. The boots are also popular among motorcycle riders and people who enjoy a rugged, outdoor lifestyle. Engineer boots can also be worn as a fashion statement, thanks to their stylish design. Whether you need a pair of tough work boots or simply looking for a new style of footwear, engineer boots are an excellent option.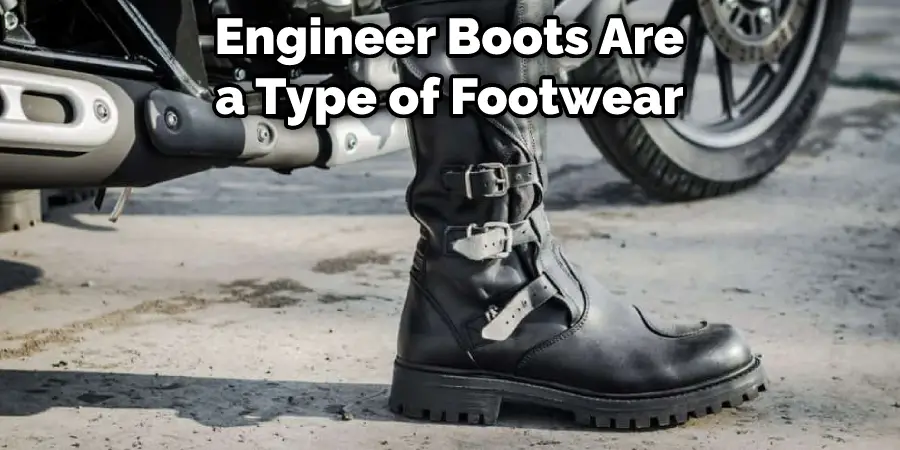 Why Is It Called an Engineer Boot?
The Engineer boot is a style that engineers traditionally wore, hence the name. The boots are characterized by their thick soles and chunky silhouette. The style dates back to the 19th century when it was created for workers in the railroad industry who needed a sturdy and comfortable boot that would protect them from the elements and hazards of their job.
Nowadays, engineer boots are popular among those who need tough and durable boots, but they have also become a fashion statement. The boots can be dressed up or down, depending on how you style them.
How to Choose the Right Engineer Boots?
Although they are called engineer boots, these shoes are not just for people who work in engineering. Anyone can wear them. The key is to choose the right pair for your feet.
There are a few things to keep in mind when choosing engineer boots. First, you need to make sure that the boots fit correctly. They should be snug around your ankles and calves but not too tight. You should also make sure that the toe box is large enough to allow your toes to move freely.
Second, you need to consider the type of boot you want. There are three main types of engineer boots: plain toe, cap toe, and steel toe. Plain toe boots are the most basic type of boot, and they are typically made of leather. Cap toe boots have a reinforced toe area, which can be helpful if you plan on doing a lot of walking or standing. Finally, steel toe boots have steel reinforcement in the toe area, making them ideal for work environments with a risk of injury.
Third, you need to decide what kind of sole you want. There are two main types of soles: rubber and leather. Rubber soles are more durable and provide better traction, but they can be slippery on some surfaces. On the other hand, leather soles are more comfortable and look nicer, but they do not last as long as rubber soles.
Finally, you need to choose a style that matches your personality. Engineer boots come in various types, including classic, rugged, and modern. Choose a style that you feel comfortable in and think will look good with your existing wardrobe.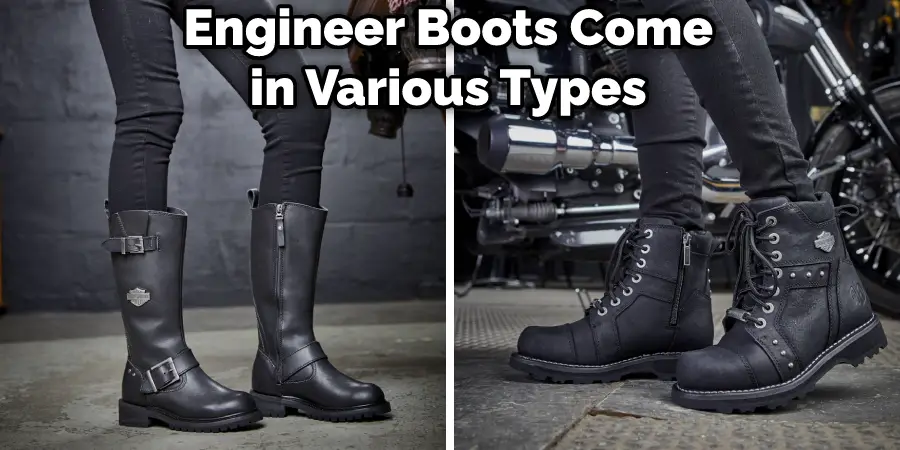 Engineer boots are an excellent choice for anyone looking for a sturdy, comfortable boot. Keep these tips in mind when choosing a pair, and you will be sure to find the perfect boots for your feet.
A Detailed Guide on How to Wear Engineer Boots
Way 1. Everyday Wear of Engineer Boots
If you want to look great in your engineer boots every day, you should keep a few key styling tips in mind.
First, make sure your jeans are the correct size. Engineer boots look best with skinny or slim-fit jeans that tuck in nicely.
Second, don't be afraid to experiment with different colors and washes. For example, dark wash denim looks especially good with engineer boots.
And finally, consider adding a pop of color or pattern to your top layer. For example, a printed button-down or leather jacket will add visual interest to your outfit.
Way 2. Dressier Occasions
When dressing up your look, aim to balance polished and rugged elements. Start with a well-fitting base layer like dark-wash denim or chinos. Then, add a tailored blazer or leather jacket. And finally, finish with your favorite pair of engineer boots. The key is to keep the rest of your outfit relatively simple so that your shoes can take center stage.
Try pairing black engineer boots with slim-fit trousers and a tweed sport coat for a truly refined appearance. This ensemble works excellent for everything from weddings to work functions. Just be sure to avoid anything too casual, like jeans or t-shirts.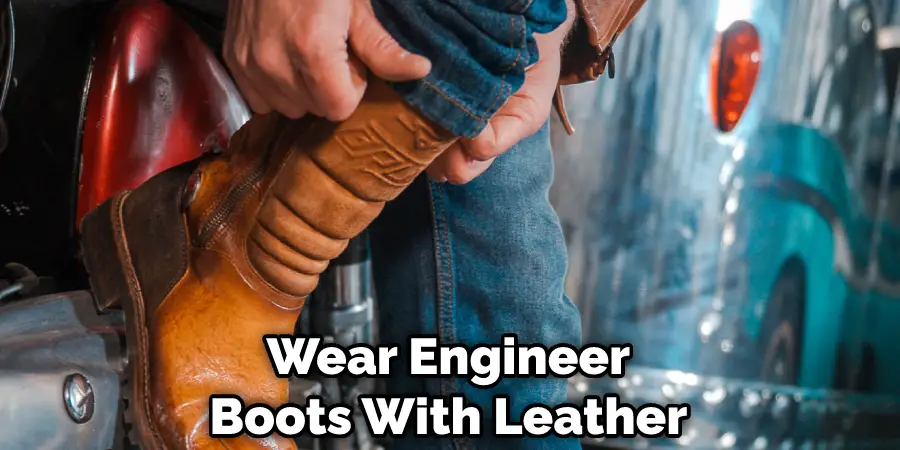 If you want to add a bit of edge to your outfit, consider wearing engineer boots with leather leggings. This look is perfect for a night out on the town or a date. Just make sure your top is long enough to cover your bottom half. Otherwise, you'll look more like a biker chick than a fashionista.
Way 3: Plaid Dresses with Engineer Boots
If you want to go for a more edgy and stylish look, pairing your engineer boots with a plaid dress is excellent. This look is perfect for those who want to add a bit of edge to their outfit without compromising comfort or style.
Opt for a dress that hits at or just below the knee to get the best results. And, if you want to stand out, choose a dress with bolder colors or patterns. For example, a red and black plaid dress would be a great choice.
Keep it simple with just a few statement pieces as far as accessories are concerned. For example, a leather jacket, chunky bracelet, and cross-body bag would be perfect.
Way 4: Sport and Combat Pants
Whether you're donning a pair of khakis or cargos, there are a few different ways to style engineer boots. If you want to go for a more rugged look, try tucking in your pants so that about an inch or two of the pant leg is showing above the boot. This is a great way to show off the detail of your boots and can be paired with a variety of shirt options, from plaid flannels to plain tees. You can also roll the cuff of your pants up slightly so that it hits right at the ankle for a relaxed look.
If you're wearing slim-fit pants, such as chinos or jeans, it's best to leave them un-tucked. This will help create an appealing look and prevent your outfit from looking too bulky. You can also cuff the pants slightly to sit right at the ankle, which is a great way to show off your boots. Just be sure not to roll them up too high, as this can make your legs look shorter.
Whether you're going for a rugged or refined look, engineer boots are a great way to add a touch of style to any outfit. With so many different ways to wear them, it's easy to find a style that suits you. So go ahead and experiment until you find the perfect way to rock your engineer boots!
Why Do Engineer Boots Have Straps?
The most defining feature of engineer boots is the straps across the foot and ankle. These straps are both functional and stylish, and they can set your look apart from other styles of boots. But why do engineer boots have straps in the first place?
There are two main reasons for the straps on engineer boots. First, they provide additional support for the ankle, which is essential when wearing heavy work boots like these. Second, the straps add a bit of visual interest to the boot, which can help them to stand out from other styles.
If you're interested in wearing engineer boots, keep a few things in mind. First, make sure that you choose a pair that fits well. Engineer boots are typically made in a narrower size than other boots, so you may need to size up or down depending on your foot width.
Second, the straps on engineer boots are often decorative, so don't be afraid to experiment with different ways of wearing them. For example, you can leave the straps loose, tie them in a knot, or tuck them into the boot.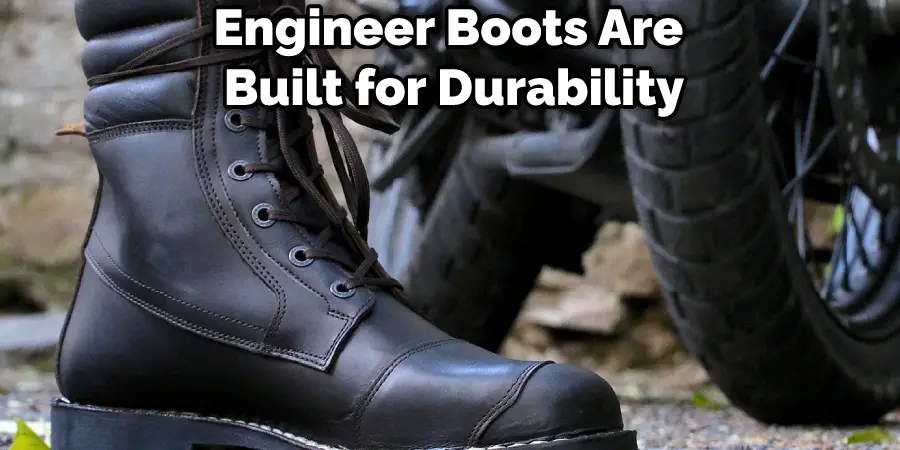 Finally, remember that engineer boots are built for durability, so they'll likely last you for many years to come. With proper care, your engineer boots will only get better with age.
Frequently Asked Questions
Why Do They Call Them Engineer Boots?
Engineer boots are named after engineers because they were designed to protect feet from the harsh environment that these professionals work in. Engineer boots are typically made of heavy-duty leather or suede and have rubber soles to provide traction on wet surfaces. Additionally, engineer boots often feature a heel counter and an arch support system to ensure stability when walking long distances or standing for extended periods of time.
How Do You Stretch Engineer Boots?
There are many ways to stretch engineer boots. Some people might prefer to use a heat gun or hairdryer, while others might prefer to use a rugby ball or tennis ball. As long as you are doing it gradually and carefully and not causing too much damage, you should be fine. Just be sure to follow the manufacturer's instructions for stretching boots, as these can vary somewhat from model to model.
Why Do Engineer Boots Have Straps?
Engineer boots have straps because they are designed to support a heavy load and provide stability. When you're walking or running, your feet and ankles use a lot of energy. The boot strap system helps distribute the weight more evenly so that the ankle doesn't eccentric stretch (stretch beyond its limit), which can cause injury. Additionally, if one foot slips out from beneath you while you're wearing an engineer boot, the strap system will keep it in place so that you don't fall flat on your backside.
Are Work Boots Better Tight or Loose?
The best option may depend on your individual foot size and style of work. If you are unsure what type of boots are right for you, it's recommended that you consult with a professional shoemaker or alternatively, simply try them on and see how they feel before making any final decisions.
Conclusion
So, there you have it, how to wear engineer boots. Engineer boots are a classic style that's been around for years. If you're looking to buy your first pair or want to learn more about how to wear them, read on. We'll show you the basics of this versatile boot and give you some tips on styling them so you can look sharp no matter what the occasion. Thanks for reading!