Are you looking to amp up your everyday street style? Oxford shoes have been a menswear staple for over two centuries, but they don't always get the credit they deserve. Whether it's plain-toe or suede, these classic lace-ups are extremely versatile and can be worn with almost any outfit.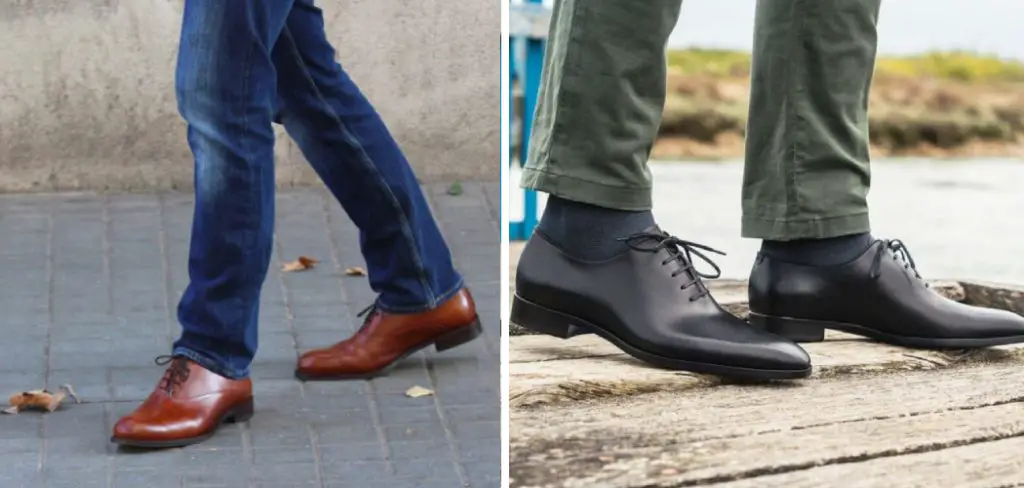 In this post on how to wear oxford shoes with jeans, I'll show you how to pair oxfords with jeans for instant refinement – perfect if you want to look sharp while keeping things comfortable.
From playing around with proportions to accessorizing appropriately, there's a lot of room for experimentation when styling Oxford shoes and denim together – so let's explore what looks good!
What Are Oxford Shoes?
Oxford shoes are a type of dress shoe with closed lacing: the shoelace eyelets are sewn under the vamp, rather than on top. This makes them more formal-looking than their open-lacing counterparts, such as loafers and boat shoes. They usually have leather uppers and come in various colors and textures, including patent leather and suede.
Which Jeans Look Best With Oxford Shoes?
The key to looking good in jeans with oxfords is all about making sure you don't clash too much. If you're wearing a plain-toe or cap-toe style in black or brown leather, go for classic dark-wash denim. It'll ground the whole look and keep it looking sharp without being too dressy.
For a more casual look, try teaming your suede or casual leather Oxfords with some lighter-wash jeans in a slim-fit cut. This will give off a smart-casual vibe that looks great even on days when you don't feel like dressing up.
10 Step-by-step Guidelines on How to Wear Oxford Shoes With Jeans
Step 1: Start With the Basics 
Make sure your jeans fit well and are comfortable to wear. Darker colors always look more formal, so opt for black, gray, or navy blue. Slim-fit styles tend to be the most flattering – but if you prefer a looser fit, there are plenty of options out there too.
It all depends on your personal preference. If you want to dress up your look, add a crisp white shirt. But if you're going for a more relaxed vibe, team your jeans with a knitted polo or t-shirt.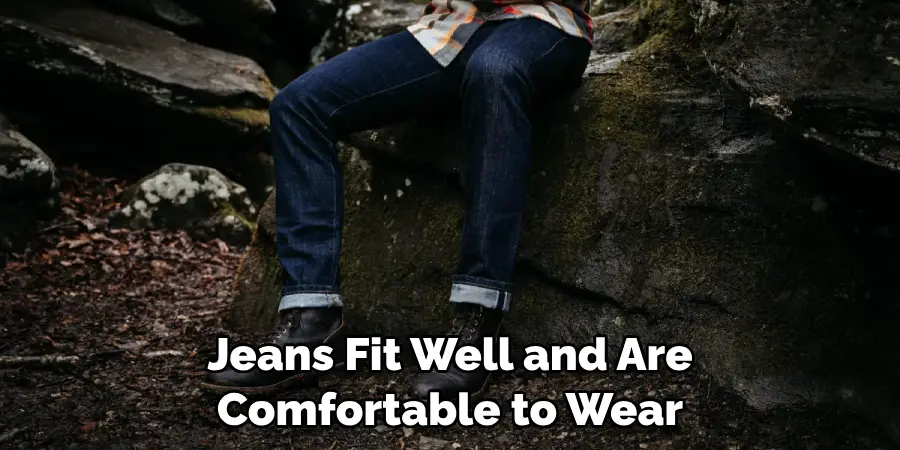 Step 2: Choose Your Oxford Shoes
Try different textures and colors to find the perfect pair for your jeans. Plain-toe Oxfords in black or brown leather is ideal for smart looks; suede styles can be worn with both casual and dressy outfits. This is the time to get creative – there's no need to stick with just one style of Oxford. This is also when you can add a belt to your look for an extra touch of sophistication.
Step 3: Pick Out Accessories
Oxford shoes go great with belts and pocket squares in matching hues (such as reds with brown oxfords). They also look amazing when paired with a crisp white shirt – the contrast adds a bit of extra flair to your look. It's also important to choose the right socks. Ankle socks in black or white are always a safe bet, but you can also experiment with different colors and patterns for a bolder look.
Step 4: Find the Right Socks
Choose dark, mid-calf socks in materials such as cotton or wool. They should either match the color of your Oxford shoes or be slightly lighter – avoid wearing bright colors or patterns here. It's also important to make sure that your socks are the right length – they should come up just above your shoes. If they're too long, they'll bunch up and become visible when you walk. It's all about finding the right balance between comfort and style.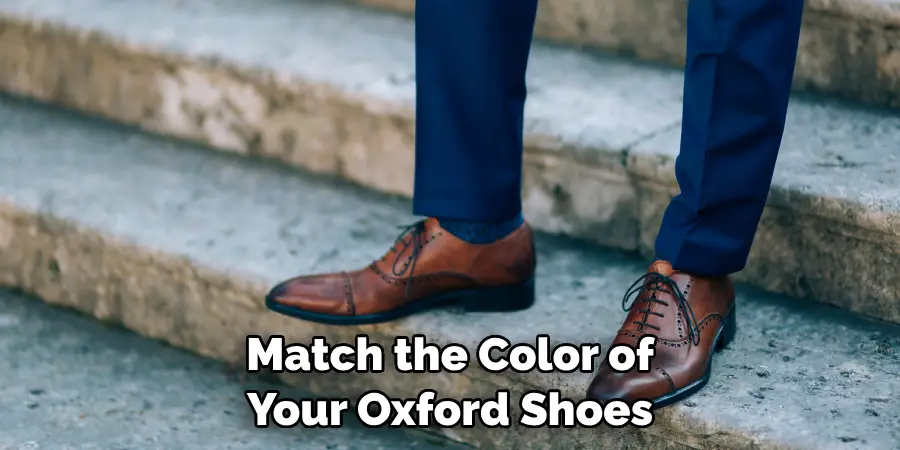 Step 5: Go for Quality Denim
Invest in some high-quality jeans that you can wear again and again. Look for well-crafted pieces with details such as raised seams or contrast stitching – they'll add an elevated touch to your outfit. It's also worth investing in a quality belt to match your Oxford shoes – leather styles are always a good choice.
Step 6: Play With Proportions
You can mix up proportions by going for slim-fit jeans with wider-cut Oxfords (or vice versa). It's a great way to keep your look modern and stylish. It's also a good idea to add a longer jacket or blazer to complete the outfit – it'll create an inviting silhouette that draws the eye downwards. If you're going for a smarter look, try tailored trousers with Oxfords.
Step 7: Don't Overdo It
Oxford shoes should be the focus of your outfit, so avoid wearing too many accessories or overly bold pieces. Keep things simple and let your Oxfords take center stage. It's also important to make sure that the colors of your jeans, Oxford shoes, and accessories match – otherwise, you'll end up looking a little too busy. But if you stick to neutral hues, it'll be easier to pull off the look.
Step 8: Go Tailored for Formal Occasions
For special occasions such as weddings and dinner parties, try teaming dark Oxford shoes with tailored jeans in a slim cut. The combination will look smart yet still remain comfortable enough for vice versa). This is a great way to add interest and break up the monotony of your look. It's also a good way to introduce some color – try shades of blue, green, or red for a more eye-catching ensemble.
Step 7: Experiment With Textures
Combine textures such as leather, suede, corduroy, or denim for an interesting effect. The key here is to make sure that none of the fabrics overpower each other – instead, they should complement one another. It's also a good idea to choose pieces in complementary colors, such as navy blue and brown.
Step 8: Think About Shoe Care
To keep your Oxford shoes looking their best, invest in some quality shoe-care products and learn how to care for them properly. Regular polishing will help protect the leather from scuffs and scratches – plus it'll make them look even sharper! If you're not sure how to go about it, read up online or ask if you're looking for a more casual look, go for suede Oxford shoes – they look great with jeans and are easier to care for.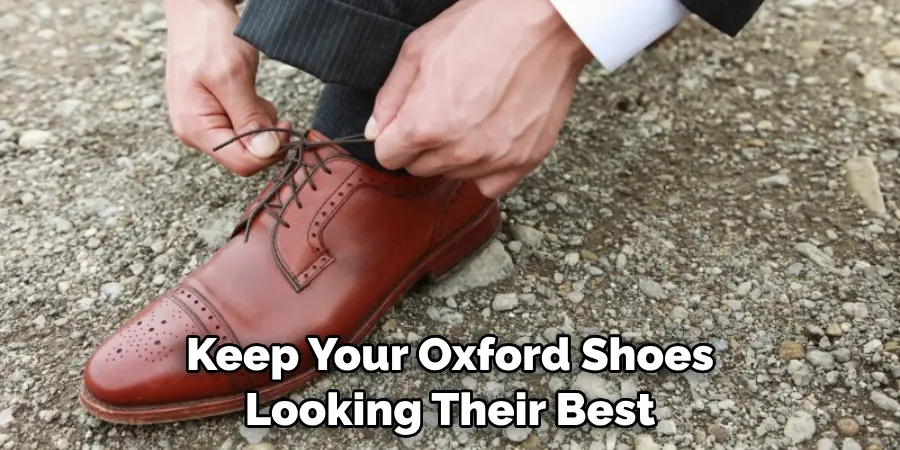 Step 9: Mix It Up
Don't be afraid to experiment with different styles and colors. Try pairing your Oxford shoes with chinos or cords for a preppy feel, or dress them down with some distressed jeans for a more casual look. It's all about finding the perfect balance between formal and casual – like choosing oxford shoes in a bolder hue such as red or burgundy.
Step 10: Have Fun!
Above all else, have fun when it comes to styling your oxfords and jeans. There are no hard-and-fast rules – just follow the tips in this post and you'll be sure to create a stylish ensemble that will turn heads wherever you go! 
Always remember that there's no "right" way to wear oxford shoes – just be creative and have fun!
Following these guidelines will help you create a timelessly cool look with your Oxford shoes and jeans. Whether you opt for a classic or modern approach, the combination of oxfords and denim is always a winner. So go ahead and give it a try – you won't be disappointed!
With this advice on how to wear Oxford shoes with jeans, you'll be ready to take on any street style challenge that comes your way! With the right pair of Oxfords and some stylish accessories, you can easily elevate your everyday outfits in no time. So what are you waiting for? Get out there and show off your dapper looks!
Frequently Asked Questions
Q: What Type of Jeans Should I Wear With Oxford Shoes?
A: The best jeans to wear with oxfords are slim-fit styles in dark washes. You can also opt for tailored cuts or light-wash jeans, depending on the occasion and your personal style.
Q: How Should I Accessorize My Oxford Shoes?
A: Try accessorizing with a belt and pocket square in matching hues – this will bring out the color of your shoes. Alternatively, you can go for contrast accessories such as bright white shirts to keep things interesting.
Q: Can I Wear Socks With Oxford Shoes?
A: Yes! Mid-calf socks are ideal when wearing Oxford shoes; just make sure to choose colors that complement your outfit (such as black or navy blue). Avoid wearing overly bright colors or patterns here.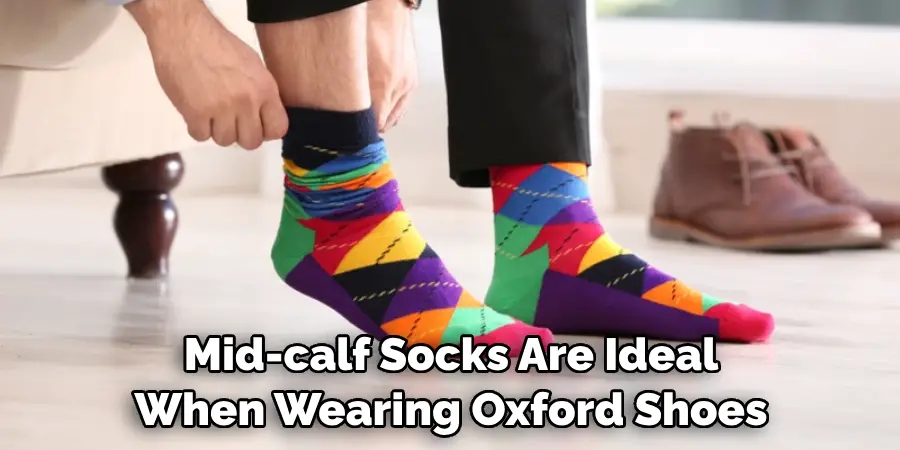 Q: Is There a Way to Make My Oxford Shoes More Comfortable?
A: Yes – investing in some insoles or heel grips can help make your Oxfords more comfortable when you're walking. Remember to store them properly, too; this will help keep the leather looking good for longer.
Conclusion
Overall, by following the guidelines outlined in this blog post on how to wear oxford shoes with jeans, you will be able to confidently rock a look with oxford shoes and jeans. So, slip on those shoes and find your favorite pair of jeans and mix them together to create the perfect combination of style and substance. 
Feel free to experiment with different options such as adding accessories or colors too. Remember there are no rules when it comes to fashion, so feel free to make it your own!
To really top off your outfit don't forget one last accessory: a big smile—everyone will take notice! Now you are all set for any occasion life throws at you while wearing your fashionable Oxford Shoes with Jeans ensemble.