You've just got a new job, and you need to buy a pair of work boots. But how do you know what style to choose? And how can you make sure they're comfortable? In this blog post, we will show you how to style work boots in several different ways. We will also provide tips on choosing the right pair of work boots for your needs. So, whether you are looking for a new style for your work boots or you are just starting out, read on for some great ideas!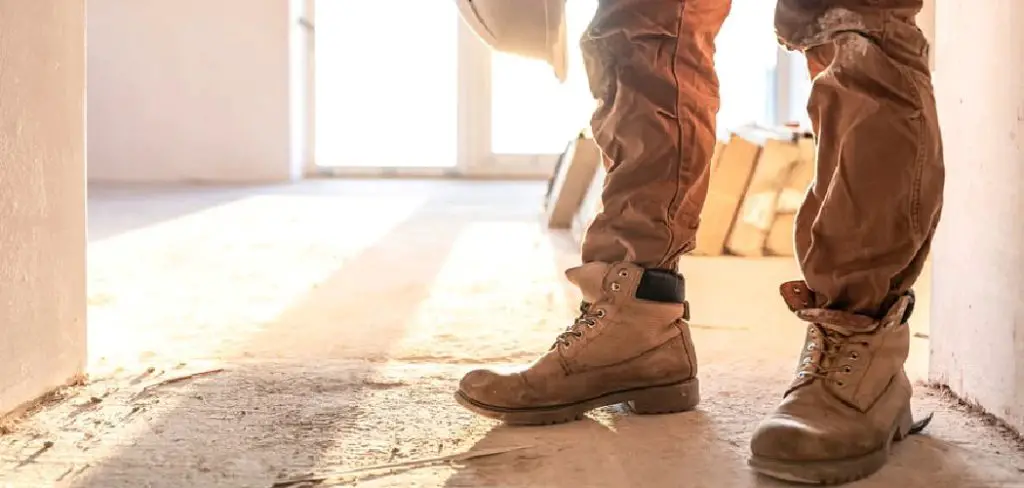 Summary: To style work boots, pair them with tapered or slim-fit jeans and a casual button-up shirt for a laid-back look. If you want a more rugged appearance, wear your boots with dark denim, a flannel shirt, and a leather jacket. Pair them with chinos, a fitted sweater, and a tailored blazer for a smart casual look. Add accessories like a watch or a leather belt to complete the outfit.
What Are Work Boots?
Work boots are a type of footwear designed for safety and protection in hazardous work environments. They typically have thick leather uppers, steel toe caps, and slip-resistant soles. Some styles also feature waterproofing and insulation for use in cold or wet conditions. Work boots are typically required in jobs such as construction, logging, and mining, where there is a risk of foot injuries from falling objects or sharp tools.
They are also commonly worn by firefighters, police officers, and other first responders. In recent years, work boots have become popular as casual footwear among people who value their style and comfort. While they may not offer the same level of protection as traditional work boots, they can still provide some measure of safety in everyday settings.
Why Should You Style Work Boots?
Work boots are an essential part of any construction worker's wardrobe. Not only do they provide protection from the elements and from potential hazards, but they also help to keep your feet comfortable and supported throughout the day. However, work boots can also be a fashion statement. By choosing the right boot style, you can make a statement about your personal style and taste.
Also, styled work boots can help you stand out from the crowd and make a good impression on potential employers. So whether you're looking for a new job or just wanting to update your look, consider styling your work boots the next time you head to the job site.
7 Ways to Follow How to Style Work Boots
Styling work boots can be a bit of a challenge. But with these seven tips, you'll be able to create stylish and professional looks.
1. Stick to A Color Scheme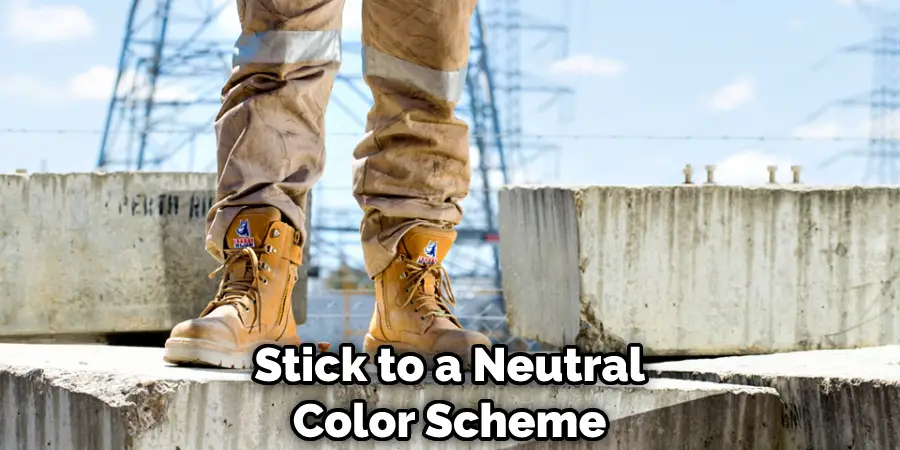 When it comes to styling work boots, it's best to stick to a neutral color scheme. This will help to create a more put-together look. Neutrals such as black, brown, and gray are always a good choice.
2. Create A Contrast
One way to add interest to your look is to create a contrast with your work boots. This can be done by pairing them with clothing in a different color or material. For example, you could wear black boots with a denim skirt or brown boots with a chiffon dress.
3. Let Your Work Boot Style Reflect Your Personality
Your work boots are a great way to express your personality. So don't be afraid to go for a style that reflects who you are. If you're more of a rugged type, choose a boot with a tougher look. If you're more of a fashionista, go for a boot with some embellishments or in an unexpected color.
4. Incorporate Different Textures
Another way to add interest to your look is to incorporate different textures into your outfit. This can be done by pairing your work boots with clothing made from different fabrics such as wool, leather, or denim.
5. Think Outside the Box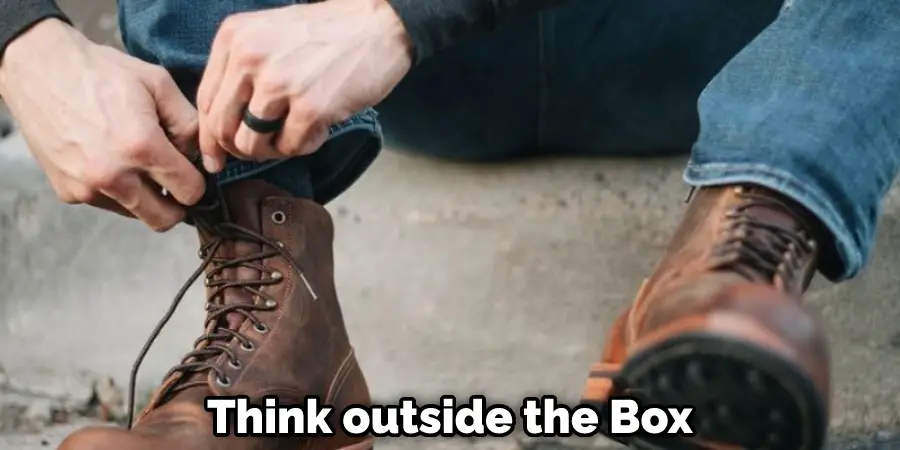 Don't be afraid to think outside the box when it comes to styling your work boots. If you're tired of the usual black and brown, try a pair in a different color or material. Metallic, suede and even patent leather are all great options.
6. Go for a Monochromatic Look
If you really want to make a statement, go for a monochromatic look with your work boots. This means wearing a boot in the same color as your clothing. For example, you could wear a black boot with a black dress or pants.
7. Add Some Edge With Accessories
Finally, don't forget to accessorize! Pairing your work boots with bold accessories is a great way to add some edge to your look. Statement jewelry, a colorful scarf, or even a funky hat can all help to take your outfit to the next level.
That's it! You've now learned how to style work boots like a pro. So go out there and put your newfound knowledge to good use.
How to Style Work Boots for a Professional Look
Work boots are a staple in many people's closets, but they are often seen as too casual for a professional setting. However, work boots can be perfectly appropriate for the office with the right styling. Here are a few tips to keep in mind when choosing an outfit to pair with work boots.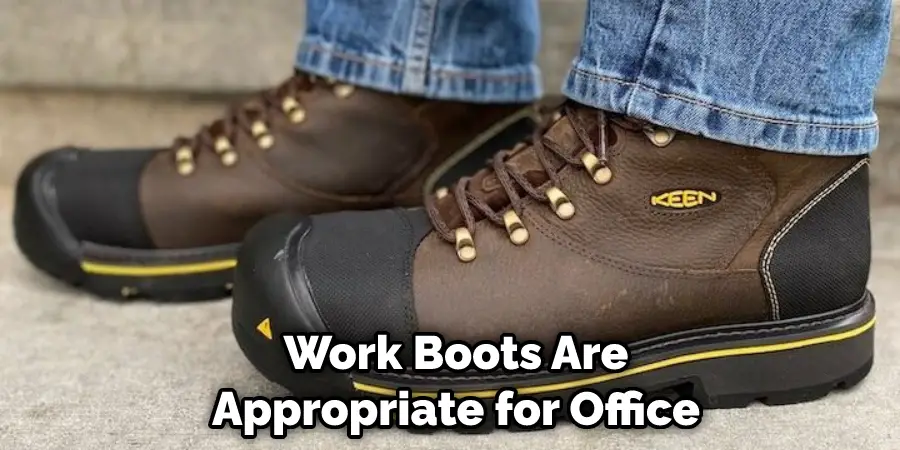 First, avoid overly casual pieces like t-shirts and jeans. Instead, opt for a button-down shirt or a blazer. These items will help to elevate the look of your work boots and give you a more polished appearance.
Second, consider the color of your work boots when choosing the rest of your outfit. Darker colors like black or brown will pair well with most colors, but if you have lighter-colored work boots, you'll want to stick to neutrals like beige or white.
Finally, don't forget the accessories! A simple scarf or statement necklace can really pull an outfit together. And when it comes to shoes, remember that less is more. A pair of booties or loafers will complement your work boots nicely without looking too overdone.
By following these tips, you can easily style work boots for a stylish and comfortable professional look.
How to Wear Work Boots in The Spring
Warmer weather is on the horizon, so it's time to break out the shorts and sandals. But what about your work boots? Surely they're too heavy and hot for spring, right? Wrong! With a few style tips, you can wear your work boots all year round. For example, try pairing them with a sundress or maxi skirt. The contrast between the boots' toughened material and the dress's feminine silhouette will give you a stylish and unique look.
Alternatively, try rolled-up jeans or shorts. This will help show off the shape of the boot and keep you cool simultaneously. And don't forget to accessorize! A colorful scarf or a statement necklace will add a touch of personality to your outfit. So go ahead and rock those work boots all season long!
How Can I Make My Work Boots Look Nicer?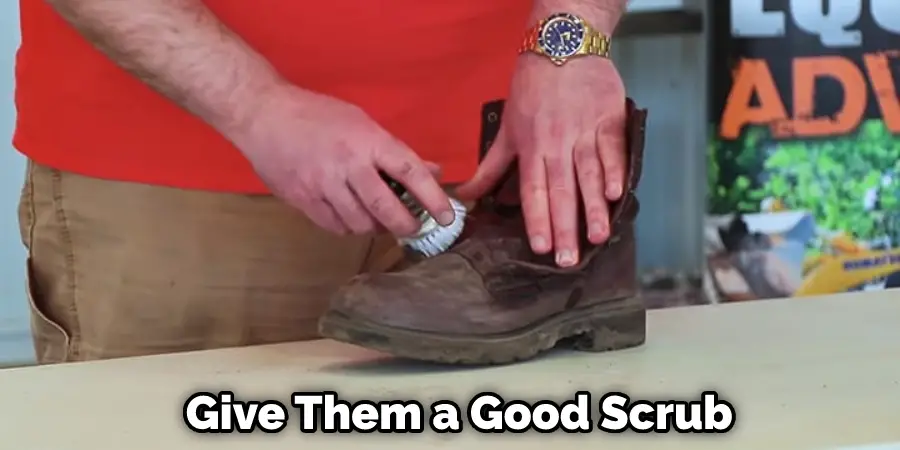 If you've ever wondered how I can make my work boots look nicer, the good news is that it's easy to do with a little bit of effort. The first thing you'll want to do is give them a good scrubbing with soap and water. This will remove any dirt or grime that's built up on the surface. Once they're clean, you can apply a leather conditioner to help keep the leather soft and supple.
You may also want to polish the boots to give them a shiny finish. Finally, be sure to protect your boots from the elements by storing them in a cool, dry place when you're not wearing them. With a little bit of care, your work boots will look great for years to come.
How Can I Make My Work Boots More Comfortable?
If you wear work boots daily, then you know how important it is to have a comfortable pair. There are a few things that you can do to help make your work boots more comfortable. First, make sure that you buy the right size. Boots that are too small or too large can cause blisters and other problems.
Second, try wearing socks that are specifically designed for work boots. These socks are usually made from thicker materials that will help cushion your feet and prevent blisters. Finally, break in your boots gradually. Wear them for a few hours at first, and then increase the amount of time each day until you are wearing them for the entire day. Following these tips can help make your work boots more comfortable.
How Can I Dress up My Work Boots?
There are many ways to dress up your work boots. One way is to choose a boot with some embellishments, such as adding laces or straps. Another way is to select a boot in a neutral color, such as black or brown, and pair it with a colorful or patterned sock. Finally, if you want to make a statement, consider adding a personal touch to your boots with creative embellishments, such as painting them or adding beads or sequins.
No matter how you choose to dress up your work boots, the key is to have fun and be creative. With a little effort, you can create a unique and stylish look to help you stand out from the crowd.
Frequently Asked Questions
Can I Wear Work Boots Casually?
It depends on your personal style and preferences. That being said, most people would probably agree that you should avoid wearing work boots casually – unless, of course, you're a construction worker or someone in a similar profession. Wearing boots when you're not actually wearing them can cause damage to your footwear and lead to potential injuries. So, unless you're sure you can handle the occasional accidental slip-and-fall, it might be best to steer clear!
Can You Wear Work Boots With Dress Pants?
Yes, you can wear work boots with dress pants as long as they are coordinated and fit well. You may want to go a half size bigger if you plan on wearing thick socks or stockings. And be sure to keep your footwear shined so that it looks clean and presentable.
Should I Tuck My Jeans Into My Boots?
It depends on the individual's style and preference. Some people like to tuck their jeans into their boots, while others prefer not to bother. Ultimately, it is up to you to decide how you want your clothes to look and feel. What are some other factors that may influence your decision?
One thing worth considering is whether or not the bootlaces will stay tied when tucked in. If they do untie often, then opting for a looser fit might be a better choice. Similarly, if you plan on wearing your jeans outside of the house frequently, consider choosing a rugged model that can handle lots of wear and tear (e.g., Reynosa tactical ankle pants). In sum, there really isn't anything wrong with tucking your jeans into your boots; just make sure that both look good and function well!
Is It Better to Have Tight or Loose Work Boots?
It all depends on your personal preferences. If you're a fan of snugly fitting boots that provide great support and don't tend to wear out quickly, go for tight boots. If you're more of a looser-fit boot kind of guy, go for loose boots.
However, there are some general guidelines that can help you decide which type of boot is best for you:
Tight boots are better if you're prone to ankle injuries or if you spend a lot of time on your feet.
Loose boots are better if you're an outdoor worker who spends a lot of time on rough terrain or in wet conditions.
Always try on a pair of boots before you buy them – no matter what type they are – to make sure they fit well and don't cause any discomfort.
Replace your work boots every four to six months – even if they still look and feel like new – to ensure that they are providing the level of protection that you need them to.
Conclusion
So, now that you know how to style work boots, it's time to put your best foot forward. Start by trying out some of the looks we shared today. Once you find a style that works for you, stick with it and have fun styling them in different ways. Before you know it, people will ask where you got those stylish work boots!