Lucchese boots are some of the market's most popular and well-known cowboy boots. The brand has been around for over a hundred years and is known for its quality craftsmanship. But how do Lucchese boots fit?
Lucchese boots are available in both men's and women's sizes. In addition, the brand offers various widths to choose from, so you can find the perfect fit for your feet. Lucchese boots are also available in both standard and wide calf sizes.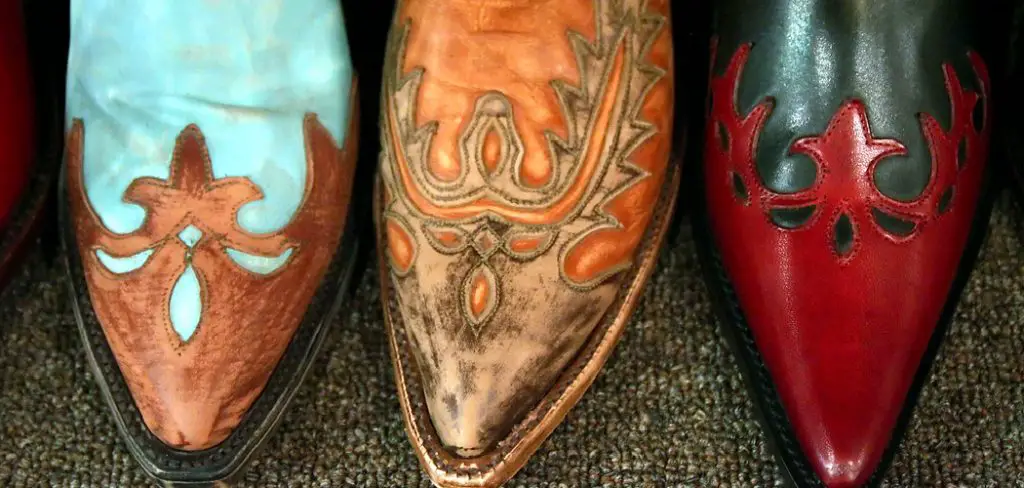 Summary: Lucchese boots are known for their superior fit, quality and comfort. They are handcrafted and primarily constructed with leather, providing a snug yet comfortable fit. The arch of the boot is designed to contour perfectly to the curve of the foot. Lucchese boots have an extended break-in period, so they may take some time before they become comfortable enough to wear on a regular basis.
What Are Lucchese Boots?
Lucchese boots are a type of western boot that is handmade in the United States. The company was founded in 1883 by Sam Lucchese, Sr., who emigrated from Italy to San Antonio, Texas. Lucchese boots are known for their quality craftsmanship, as each pair is made from start to finish by a single craftsman.
The boots also have premium materials, such as full-grain leather and hand-laced stitching. In addition, Lucchese boots are designed to be comfortable and stylish, with a wide range of styles to choose from. So whether you're looking for a classic cowboy boot or something more modern, Lucchese has a boot that will fit your style.
How Do Lucchese Boots Fit
Lucchese boots have a reputation for being among the most comfortable and well-fitting on the market. But what makes them so special? One of the things that set Lucchese apart is the fact that they use a unique sizing system. Instead of using standard sizes like "medium" or "large," they offer a range of options that allow you to get a more customized fit.
For example, you can choose between a "regular" fit, designed for people with average-sized feet, or a "narrow" fit, ideal for people with narrower feet. You can also choose between a "short" fit, designed for people with shorter legs, or a "tall" fit, perfect for people with longer legs. In addition to their sizing system, Lucchese boots are also made with high-quality materials that conform to your feet over time.
This means that they'll mold to the shape of your feet and provide superior support and comfort. All in all, it's no wonder that Lucchese boots are so popular among both cowboys and fashionistas alike.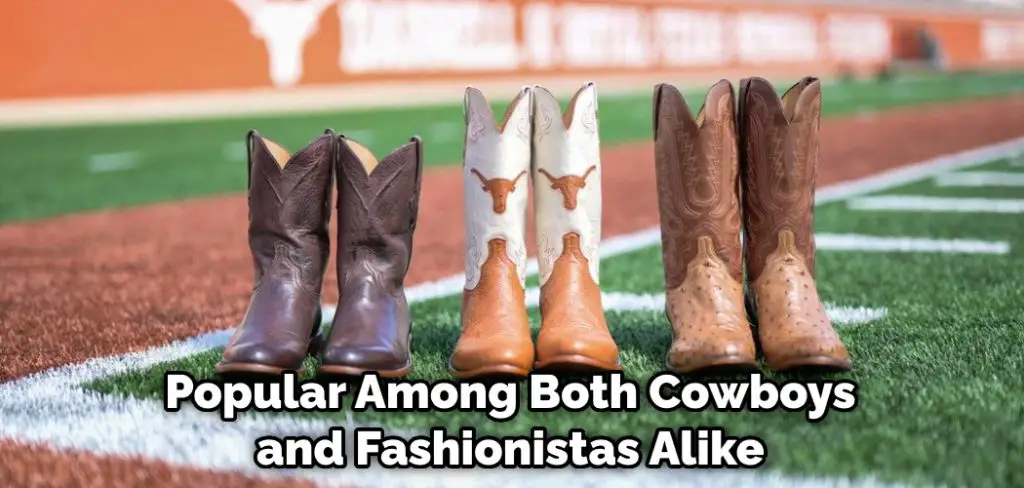 7 Tips to Follow on How to Choose the Right Lucchese Boots for You
Lucchese boots are more than just a fashion statement. They're also a way to show your unique style and personality. But with so many different styles to choose from, how do you know which ones are right for you? Here are a few things to keep in mind when selecting your Lucchese boots:
1. Consider the Occasion
Will you wear your Lucchese boots for everyday wear or special occasions? If you plan on wearing them frequently, then you'll want to choose a style that is both comfortable and stylish. But if you only plan on wearing them occasionally, you can afford to be more daring with your choice.
2. Think About the Fit
Lucchese boots come in various sizes and widths, so it's important to find a pair that fits you well. If you're not sure what size to purchase, it's always best to err on the side of caution and go up a size. You can always have the boots altered if they're too big, but you can't do anything if they're too small.
3. Decide on the Style
There are many different styles of Lucchese boots to choose from, so take some time to think about which ones you like best. Do you prefer a more traditional look or something more contemporary? Do you want your boots to be plain or decorated? Once you've decided on the style you want, it will be much easier to narrow down your choices.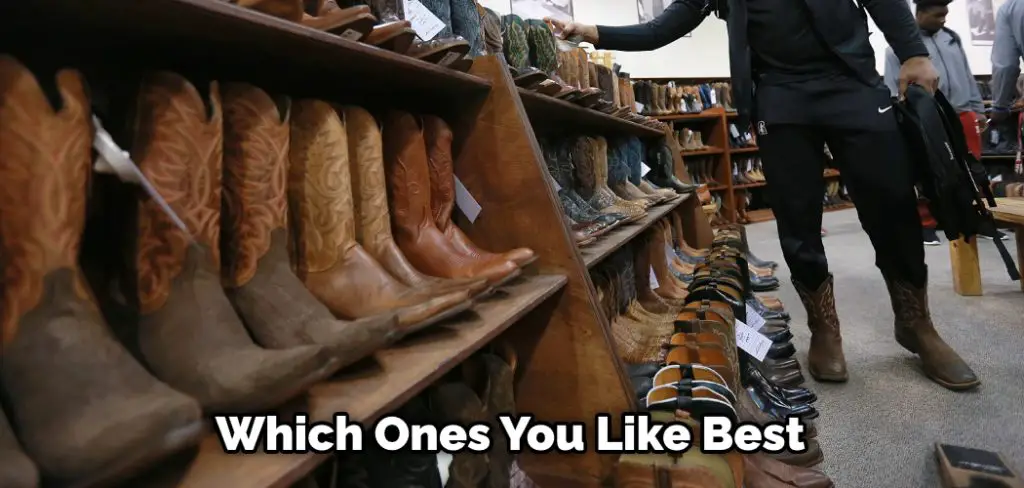 4. Consider the Color
Lucchese boots come in a wide range of colors, so you'll have no problem finding a pair that suits your taste. If you're not sure which color to choose, it's always safe to go with black or brown. But if you want to be more daring, many other options are available, such as red, green, and even pink.
5. Think about the Material
Lucchese boots are typically made from either leather or suede, so you'll need to decide which material you prefer. Leather is more durable and will last longer, but it can be more difficult to care for. Suede is softer, often more comfortable, and susceptible to stains and damage.
6. Choose the Right Heel
Lucchese boots come with various heel heights to choose from, so selecting a pair that is both comfortable and stylish is important. If you're unsure which heel height is right for you; it's always best to try on a few different pairs before making your final decision.
7. Don't Forget About the Toes
When choosing your Lucchese boots, don't forget to pay attention to the toe style as well. Round-toe boots are more traditional, while pointed-toe boots are more contemporary. Many other options are also available, such as square-toe and cowboy-boot styles.
By following these tips, you'll be sure to find the perfect pair of Lucchese boots for you.
Do Lucchese Boots Run Large or Small?
Lucchese boots are high-quality, handmade cowboy boots that are known for their comfort and durability. However, Lucchese boots tend to run large when it comes to sizing. This means that if you usually wear a size eight boot, you may want to order a size seven from Lucchese.
Of course, every foot is different, so it's always best to try on a pair of boots before you buy them. If you're ordering Lucchese boots online, be sure to check the size chart to find the perfect fit. With proper care, your Lucchese boots will last many years.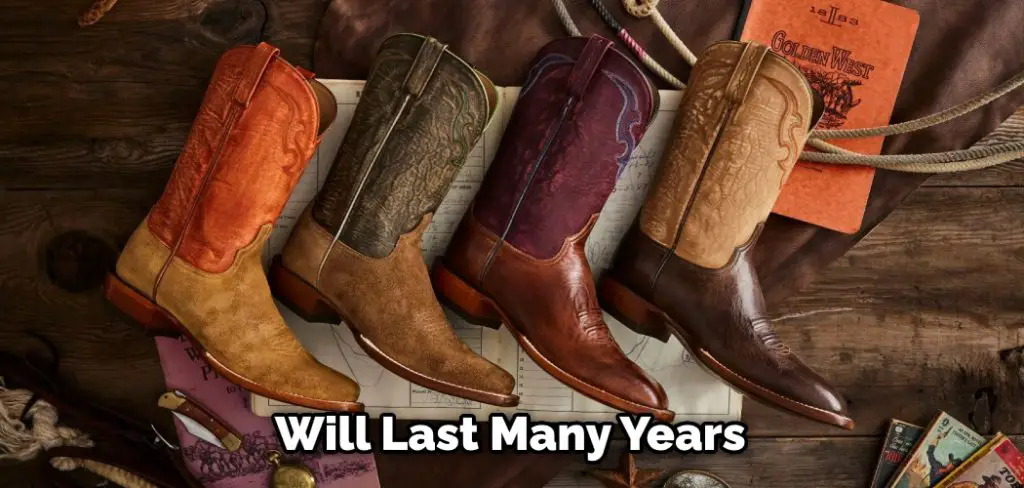 How to Determine Your Lucchese Boot Size
Lucchese boots are some of the most comfortable and stylish on the market, but finding the right size can be challenging. Here are a few tips if you're unsure how to determine your Lucchese boot size.
First, measure your foot from heel to toe. This is best done with a tape measure, but you can also use a ruler or even a piece of string. Once you have your measurement, add 1/2 an inch for extra wiggle room. This is your boot size.
Next, consider the width of your foot. Lucchese boots come in narrow and wide widths, so choosing the right option for your foot is important. If you're unsure about which width to choose, try on both and see which is more comfortable.
Finally, keep in mind that Lucchese boots tend to run large. So if you're between sizes, it's best to size down rather than up. With these tips in mind, you'll surely find the perfect Lucchese boot size for your feet.
How to Measure Your Foot for a Lucchese Boot
Lucchese boots are renowned for their quality, comfort, and style. But before you can enjoy the perfect fit of a Lucchese boot, you need to make sure you order the right size. Measuring your foot is easy and only takes a few minutes. Here's what you need to do: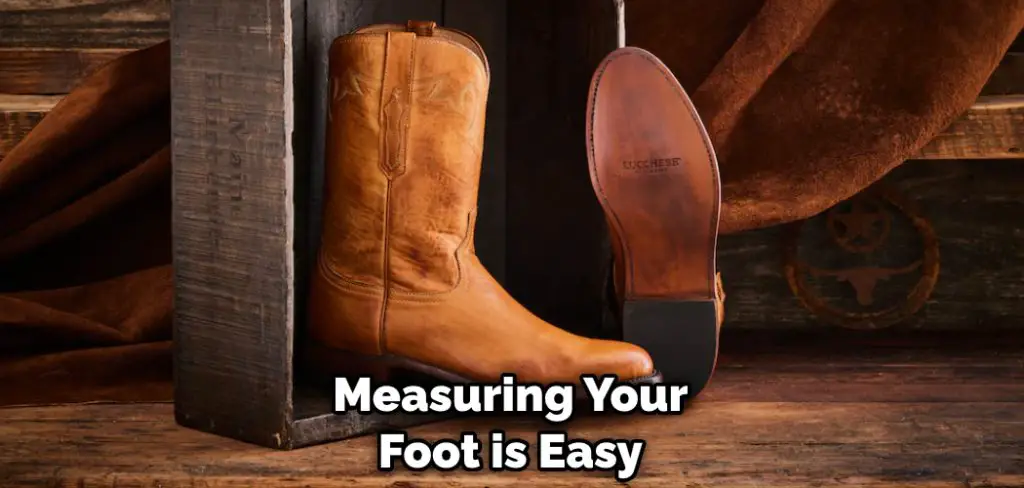 First, take off your shoes and socks. Then, stand on a level surface with your heel against a wall. Next, use a ruler or tape measure to measure the distance from the wall to the tip of your longest toe.
Be sure to measure both feet, as it's not uncommon for one foot to be larger than the other. Finally, consult the Lucchese size chart to find the closest match to your measurements. With these simple steps, you can be confident that your new Lucchese boots will fit perfectly.
The Best Way to Break In a New Pair of Lucchese Boots
Lucchese boots are world-renowned for their quality craftsmanship and comfortable fit. But even the best boots need a little breaking in before they can be worn all day without discomfort. The good news is that you can follow a few simple steps to break in your new Lucchese boots quickly and easily. First, be sure to wear socks that provide cushioning and support.
Next, walk around your house for a few minutes to get a feel for the fit and movement of the boots. Finally, if you find that the boots are still a bit stiff, try using a boot stretcher or wearing them with thick wool socks overnight. By following these simple steps, you'll soon be enjoying the exceptional comfort and style of your new Lucchese boots.
How Often Do I Need to Replace My Lucchese Boots?
Lucchese boots are made to last. With proper care, a pair of Lucchese boots can last for years. However, there are a few things that can shorten the lifespan of your boots. For example, if you wear your boots in wet or muddy conditions, the leather can start to break down.
Additionally, the leather can dry out and crack if you regularly expose your boots to direct sunlight or heat. If you notice any of these problems with your boots, it's time to take them to a cobbler for repair. However, you can generally expect your Lucchese boots to last for many years with proper care.
Frequently Asked Questions
Does Lucchese Fit True to Size?
Many people feel that the Lucchese Fit is True to Size. This boot offers a comfortable and snug fit while providing plenty of flexibility. The materials used in its construction are also high quality and resistant to wear and tear, so you can expect these boots to last for years.
Should You Size Up or Down in Cowboy Boots?
It is vital to size up in cowboy boots if you plan on wearing them for more than a few hours. Cowboy boots are made to be sized up, as they will stretch after being worn several times. This allows for a better fit and prevents the boot from becoming too tight or uncomfortable. However, if you decide to go down in your boot size, the toe box may be too broad, or there might not be enough space between the boot and your foot.
Are Cowboy Boots Supposed to Be Tight When You First Get Them?
No, cowboy boots should not be tight when you first get them. They should fit pretty loosely so that the boot can stretch as you wear it and conform to your foot better. This will help to ensure a more comfortable and personalized experience while wearing the shoes.
Can Lucchese Boots Be Stretched?
Yes, Lucchese Boots can be stretched. Use the proper methods and techniques when pulling your Lucchese Boots. Follow the instructions carefully to ensure that your Lucchese Boots remain in excellent condition and can last long.
Conclusion
Choosing the right size and width is essential for getting a good fit with your Lucchese boots. However, if you're still unsure about what size to buy, remember that it's always better to go up a size rather than down. With that being said, happy shopping! Thanks for reading our post about how do lucchese boots fit.